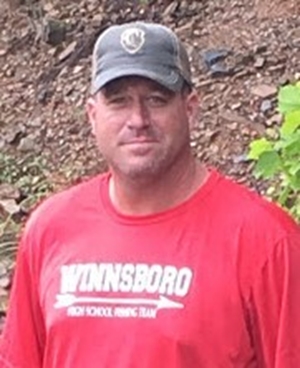 Mr. Quinn Stanford, age 43 of Scroggins, passed away on Saturday, November 18th, 2017 in Tyler. He lost a quick battle with a horrible cancer. He was born on April 26th, 1974 in Clayton County, Georgia to Virgil and Barbara Stanford. He was a railroad conductor for Union Pacific and broiler farmer for Pilgrims Pride. He was a Mason and member of Smyrna Baptist Church. He graduated from Elysian Fields High School in 1992 as the President of his class. He graduated from Stephen F. Austin University in 1996 with a BS in
Animal Science
He is survived by his wife of eighteen years, Tree (Erika) Stanford of Scroggins, son, Dalton Stanford; daughter Jordan Stanford both of Scroggins; parents, Buddy and Barbara Stanford of Pittsburg; sisters, Ronza Fouch with Wayne and Austin Rogers of Wilmington, Ohio, Makala Burrow and her husband Rodney of Pittsburg; and their daughters Marandy, Sadie, Sarah, Melody and Carolina, grandmother Dorothy Lee Stanford of Americus, GA, mother and father-in-law, Jim and Cindy Larned of Paradise, TX; mother-in-law, Joy Larned of Haslet, Texas and brother-in-law Brad Larned also of Haslet as well as many other aunts, uncles and cousins.
Quinn was foremost a family man. He strived to be the best husband and father he could be. He was his family's best friend. Though Quinn was a jack of all trades and excelled at everything he did: from welding ranching, farming, rigging, fishing, hunting, cunducting a train and multiple other things. He would most want to be remembered as a family man who loved unconditionally, and that he became and will always be the best father to his children and the most beloved husband to his wife. "His master replied, ' Well done, good and faithful servant! You have been faithful with a few things; I will put you in charge of many things. Come and share your master's happiness!" Matthew 25:21
Visitation will be held on Tuesday, November 21st, 2017 from 6:00 pm to 8:00 pm at Beaty Funeral Home-Winnsboro 816 W. Broadway Winnsboro, TX 75494. Funeral Services will be held on Wednesday, November 22nd, 2017 at Beaty Funeral Home-Winnsboro at 11:00 am, Rev. David Hendricks conducting, interment will follow at Clearwater Cemetery in Scroggins.