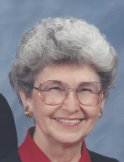 Graveside services will be held for Mrs. Ola Mae Tugwell Maddry on Tuesday, November 14, at 2:30 pm at Restlawn Memorial Cemetery, 5784 TX Hwy 154 South, Sulphur Springs, TX with Bro. Pepper Puryear officiating. Visitation will be on November 14th from 10:00 A.M. to 12:00 P.M. at Murray-Orwosky Funeral Home, 419 Gilmer Street, Sulphur Springs, Texas.  She passed away on November 11, 2017 in Shreveport, Louisiana
Ola Mae Maddry was born on September 11, 1930 at Truxno Louisiana to Claud Harris Tugwell and Ruth Albritton Tugwell. She attended Northeastern Louisiana State University in Monroe Louisiana where she met the love of her life James David Maddry. They were married for 58 years and raised 3 children. Her deep Christian beliefs were evident in every aspect of her life. She loved her family with her whole heart and treated her husband with great admiration and respect. She raised her children as a strong woman of faith. Each child knew secretly they were her very favorite. She wanted her children to remain close, for one day they would truly need each other. She loved all children, especially her grandchildren. She was fun loving and gifted in encouragement and sound council. She taught second grade children Sunday School for many
years because that was the age she believed they could be led to Christ. Her husband's career moved them to many towns where she made life long friends along the way. After settling into a new home her first order of business was to find a church home and get her family plugged in. Later in life she gathered weekly with the "Grannies" to pray for their friends and family members facing challenges.  Special friendships were formed over tedious hours of quilting for loved ones. Among her most memorable quotes- "Don't wait to be happy" and of course "Bloom where you are planted."
Mrs. Maddry was preceded in death by her husband James David Maddry, grandson David Maddry, sister Susie Jo Hinton, her parents, seven half siblings and several special friends.
Left to cherish her memory are sons, Mike (Dianne) Maddry, Joe (Kaye) Maddry; daughter Linda (Randy) Phillips; grandchildren Aimee (Tracy) Hicks, Butch (Jordan) Maddry, Sam, Daniel, Michaella Maddry, Matt (Mindi) Faubion, Sarah (Jeremy) Holley, Brittany (Dylan) Filano; ten great grandchildren and a host of extended family members who were very dear to her heart.
The family would like to thank the precious staff at the Glenn for the special care they gave their mom for the past five years.
Funeral arrangements are under the direction of Murray-Orwosky Funeral Home.