By Enola Gay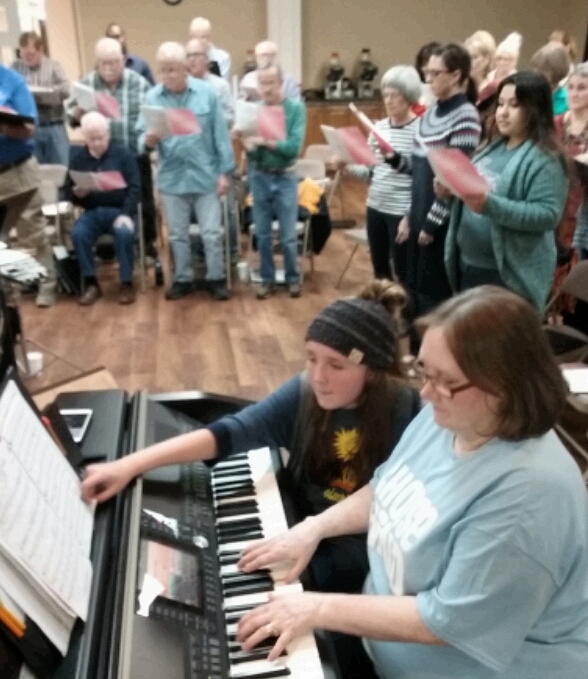 Carol Allen, Director of the North East Texas Choral Society, and her singers are putting the final touches on the music for the "Feast of Favorites" Christmas Concert they hope you will attend on 
Saturday December 2 at 7 pm
 or 
Sunday December 3 at 2 pm
 inside the SSHS Auditorium in the Civic Center. Rehearsals for the 100 singers are held 
on Monday
 nights at First United Methodist Church.
In a recent Channel 18 TV interview, Carol recalled that she was a member at a meeting of the Symphony League board when someone remarked that a choir would be needed to accompany the orchestra for the Independence Concert being planned that summer. As a concert soloist with a back ground in vocal performance in an orchestra setting, all eyes suddenly turned to Carol. She began to consider the possibility, and to entertain the idea of whether the Sulphur Springs area would support a community choir. With zero experience in conducting a choir, Carol prayed about it, consulted with local musician friends, then arranged for an audition  just to see if any singers would show up. She got 100 singers in the first round of auditions, and soon they were rehearsing. The first Christmas Concert was held twenty years ago, and since then the Northeast Texas Choral Society has staged two major concerts annually. The 2017 "Feast of Favorites" will present a beloved favorite from each of the twenty concert years, choosing traditional carols, rousing spirituals, duets and  featured solos. A small orchestra will accompany the choir, and there's some fun surprises planned onstage, too. You won't want to miss the concert!
Carol believes that choral singing is a natural human expression, and is a blessing to be shared and enjoyed. She asks that you bring your children so that they can experience this unique form of art and culture here at home. Tickets are $12 each, with children's tickets at $5 each. Purchase tickets at  local banks and online at 
netchoral.org
.
You can view the video interview with Carol Allen on 
ksstradio.com
. Below, view photos taken at a recent concert rehearsal.