Grownup wishes for their children to have a bright Christmas are as enduring as Santa Claus himself. In Hopkins County, that's where Blue Santa comes in with the help of law enforcement agencies and other leaders in the community. Now, individuals are being invited to "pitch in" during the 2017 campaign. Hopkins County Sheriff Lewis Tatum with staffers Pinky Cooper and Lee Glenn shared more information during a KSST Morning Show interview with Enola Gay.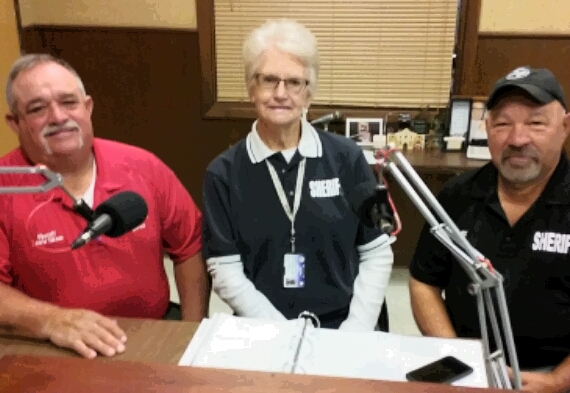 During late October, about three dozen  blue barrels were placed at local retail shopping areas and convenience outlets in Sulphur Springs. Shoppers are invited to purchase new toys to "pitch in" the barrels. As the barrels fill up, members of city or county law enforcement will stop by and empty the barrels so that more toys can fit inside. Collections of toys in the barrels will continue through the first weekend in December. Next, a public Blue Santa Drive is planned for Monday and Tuesday December 4 and 5 on the parking lot of Lowe's in Sulphur Springs. Both days, the collection site will be open from 6am til 7pm.  You can "pitch in" by bringing toys and/or donations of money, so plan to purchase toys for children ages 0-16 or simply drop off a check. Blue Santa volunteers actually purchase and store toys all year round using funds from the campaign. In addition to serving as a collection site on Dec. 4 and 5, Lowe's will host a fundraiser brisket lunch plate both days and hot dogs and cocoa for the after-school crowd.
Applications for Blue Santa assistance are available at CANHelp, 613 Gilmer Street, during business hours Monday through Friday. Distribution of toys for children of families who have applied will be done at First United Methodist Church by law enforcement and volunteer crews who will pitch in during the designated Distribution Day in December, to be announced.