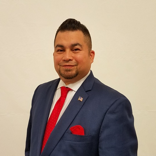 COMMERCE, TX—Assistant Dean of Enrollment Dr. Fred Fuentes was appointed by the president of the Texas Association of Chicanos in Higher Education (TACHE) to serve on the State Board and regional representative of the Northeast Texas area.
Fuentes is a 2012 recipient of the TACHE Graduate Fellowship Award and has presented at TACHE's annual conferences in the past. In 2010 he co-presented with colleagues Luis Franco and Gilbert Hernandez on The SALSA Project (Success & Access for Latino Students Ahora), and presented on "The Self-Anglicization of Latino Names to Acculturate Into American Society" in 2013. Last year, he co-presented with Dr. Chris Green and Julian Sanchez on the Latino American Mentorship Program, bilingual mentorship programs, and grant funding.
Mrs. Belinda Harmon, TACHE President and Director of Community Outreach at the University of Texas-San Antonio, stated, "Not only will Dr. Fuentes be an excellent representative, but the fact that he has been a TACHE Fellow and now comes back to serve on the board makes him a great role model for our members."
TACHE was established in 1974 and has been a significant resource for students, staff, faculty and institutions alike. In 2002, TACHE issued a series of report cards on the status of employment and educational access of institutions of higher education in Texas. Each institution is given a performance grade based on Hispanic student enrollment, as well as the extent to which faculty and administrative employment at these universities reflect the student demographics of the respective institution. The report cards have helped diversify the staff and faculty at institutions of higher learning. The state board also earned accolades for its annual conference that recognizes distinguished scholars, faculty and staff.
"Dr. Fuentes will be an active participant on the TACHE Board and will serve as an outstanding representative for the Northeast Texas area," said Dr. Lee Young, Associate Vice President for Enrollment Management & Retention at Texas A&M University-Commerce. Dr. Young adds that in this role, Dr. Fuentes will continue to be an advocate and strong supporter of higher education, inclusion and student engagement as critical strategies for increasing student success and goal attainment.