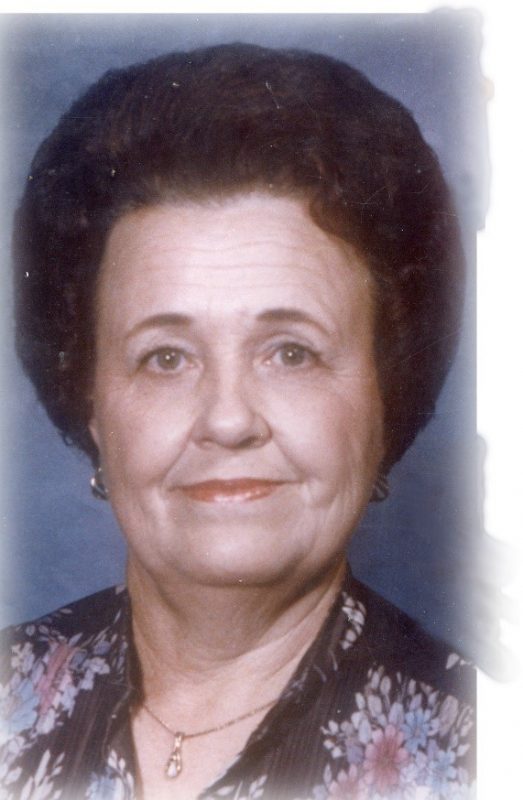 Bernice Haygood, age 92 of Mt. Vernon, TX, passed away on October 16, 2017. Bernice was born May 11, 1925 to W.P. and Etta (Walker) Meadows. She married Clarence Moses (C.M.) Haygood and raised their children in Ballinger, TX. She was a member of Good Hope Primitive Baptist Church in Franklin County.
She is preceded in death by her husband, C.M. Haygood;parents, W.P. and Etta Meadows;three grandsons, Brannon, Heath, and Russ Haygood;along with her brothers and sisters, Thyra Wallace, Virginia Holley, Phyllis McCoy, and John Meadows.
Bernice is survived by sons, Raymond Haygood and wife, Charlotte, of Sulphur Springs, TX, and Dale Haygood and wife, Debbie, of Saltillo, TX,;daughters, Jan Willis and husband, Mike, of Mt. Vernon, TX. and Ann Rector and husband, Robert, of Mt. Pleasant, TX;brothers, Phil and Jimmy Meadows, both of Gallup, NM;sister, Margaret Gobble, of Ballinger, TX;brother-in-law, Leroy McCoy, of Farmington, NM;grandchildren, Brigette, Jennifer, Kelsey, Brandie, Jennie, Amanda, Jordan, Jana, Kevin, Gina, and Lindsey;and 26 great-grandchildren. She is also survived by her nieces and nephews and many friends.
Funeral arrangements are under the direction of Beaty Funeral Home in Winnsboro. A visitation with the family will begin on Thursday, October 19, 2017, at 10:00 o'clock in the morning at Beaty Funeral Home, 816 W. Boradway, Winnsboro, Texas 75494. Funeral services will begin at 11:00 o'clock in the morning at Beaty Funeral Home, immediately after visitation. Following the visitation and funeral, interment will be at Hopewell Cemetery in Winnsboro, TX. Officiating the services will be Elder Jimmy Hamrick. Pallbearers include Chris Rector, Kevin Haygood, Jordan Willis, Noah Craver, Corbin Craver, Kannon Daffin, Kameron Foy, and Jeff Daffin.