Memorial service for Michael Brady Barrett, age 67, of Sulphur Springs will be held in Spence Chapel, First Baptist Church on Monday, September 4, 2017. Visitation will be one hour prior to the service at 10:00 AM. Rev. Fred Randles will officiate the service at 11:00 AM. Michael died at his home from complications due to long-term chronic ulcerative colitis.
Mike was born on November 30, 1949 in Sulphur Springs, the son of Willie B .A. Barrett and Gertrude Edwards Barrett. He graduated from Sulphur Springs High School in 1968. He received a degree from East Texas State University in Agriculture-Business in 1972.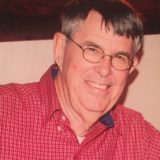 Mike married his High School sweetheart, Debra Kay Sanders on June 19, 1971 in Spence Chapel, First Baptist Church where Mike was a life-long member. They celebrated 46 years of marriage.
Mike worked for Texas Farm Bureau for 44 years as a Senior Field Representative. During his tenure, Mike forged lasting relationships with farmers and ranchers across Texas. He became an honorary member of the Hopkins County TFB Board after his retirement on July 1, 2016. Mike always had a genuine love and concern for the farming and ranching community. Mike coached girls softball and basketball for many years. He was a High School football referee for twenty-plus years and he also served on the Hopkins County Tax Appraisal Board.
Mike had many life-long, wonderful caring friends. He loved to play golf and spent many a day on the links with his golfing buddies Joe Mack Gober, Mark Rorie, Charlie Johnston and Tony Flippin. He loved to talk politics and had a passion for discussing current events.
Mike is survived by his faithful wife Debbie and beloved daughter Sara Anne. He is also survived by his sister, Kathy Barrett Hutt of Allen. Brother and sister in-laws include Norman and Kathy Sanders and Steve and Diana Longino. He dearly loved his nieces and nephews Will and Meredith Longino, Travis and Chantel Longino, Walt and Jessica Gamblin, Josh Sanders, Lauren Vaut and Ryan and Jenna Hutt. A constant source of joy were his great-nieces and nephews Cash, Sam and Bella Gamblin, Emma Longino, Jackson and Micah Longino, Cole and Jase Vaut and Neilee Hutt.
Mike was preceded in death by his parents Willie B. A. Barrett and Gertrude Barrett, special friend and fellow TFB Field Rep Pete Gibson, hunting and fishing pal Buddy Funderburk, and life-long friends Stephen Bonner and Mark Rorie and his sweet canine companion Molly B.
Pallbearers include his nephews Will Longino, Travis Longino, Josh Sanders, Walt Gamblin, Ryan Hutt and Andrew Landkammer of Austin.
Memorials may be made to City Cemetery, P.O. Box 651, Sulphur Springs, Texas 75482.  Arrangements are under the direction of West Oaks Funeral Home.