By Savannah Owens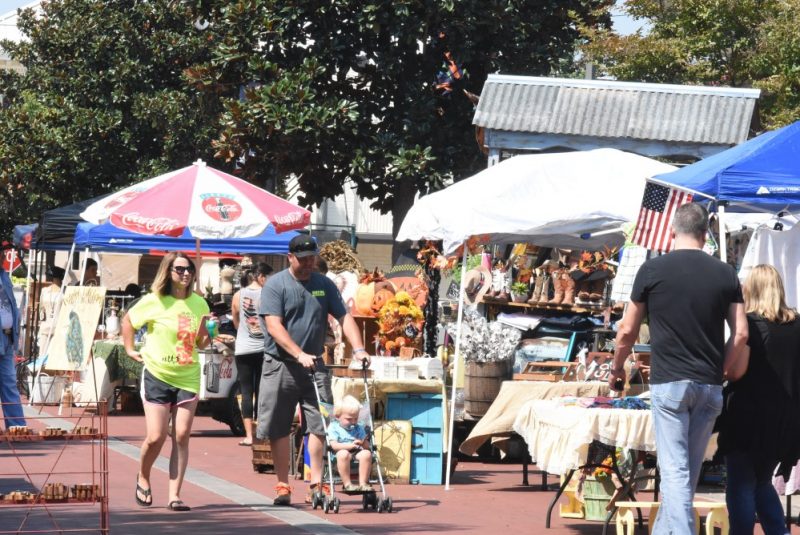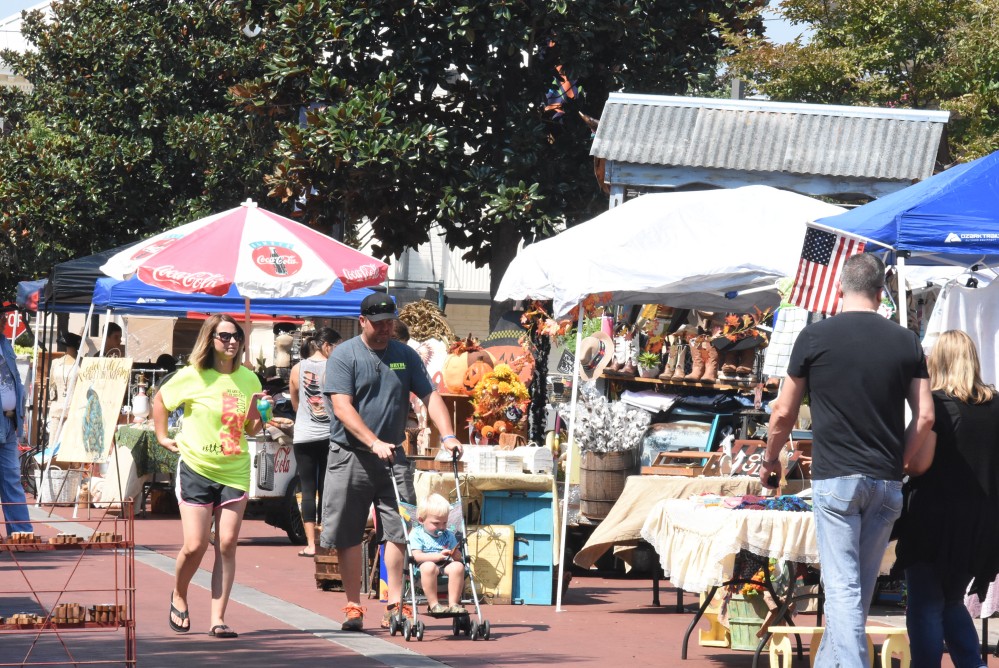 Saturday marked the debut of the Brick Street Vintage Market, sponsored by the Downtown Business Alliance (DBA). The beautiful sunshine filled day was perfect for shoppers as they strolled around Sulphur Springs historic square. Children could be found playing in the splash pad fountain or involved in a game of tag on the lawn as shoppers visited with vendors. Visitors to the market also enjoyed shopping in local stores and trying several of the local restaurants located in and around the square. It was day two for the Quilt show and many people could be found at the Roc building exploring this time honored art form.
This year's 1st market boasted 50 vendors hosting tons of antiques, a variety of jewelry and fashion items, and unique finds. There was something for everyone! Vendors reported customers who came from as far away as Oklahoma, Florida, and the Dallas area. Many attendees were from Paris, and other neighboring cities. Sulphur Springs residents also were out and about to show their unwavering support for the DBA.
Since the market's logo was a bike with a basket many of the vendors decorated their booths with vintage bikes holding baskets of pretty flowers.  The DBA got into the spirit of things by raffling off a beautiful, new, yellow, reproduction of a vintage bicycle that gracefully decorated their booth!
Vendors paid only $20 for a 10×10 spot around the square. Many said that they had great turnout at their booths and one vendor bragged "I sold more in Sulphur Springs this morning than what I normally would in a whole weekend at Canton!" Prices at vendor booths varied but customers appeared happy and felt like purchases were of good value. "I can't believe I got this for ten dollars!" KSST overheard a customer as she waved a metal star decoration for her patio in the air.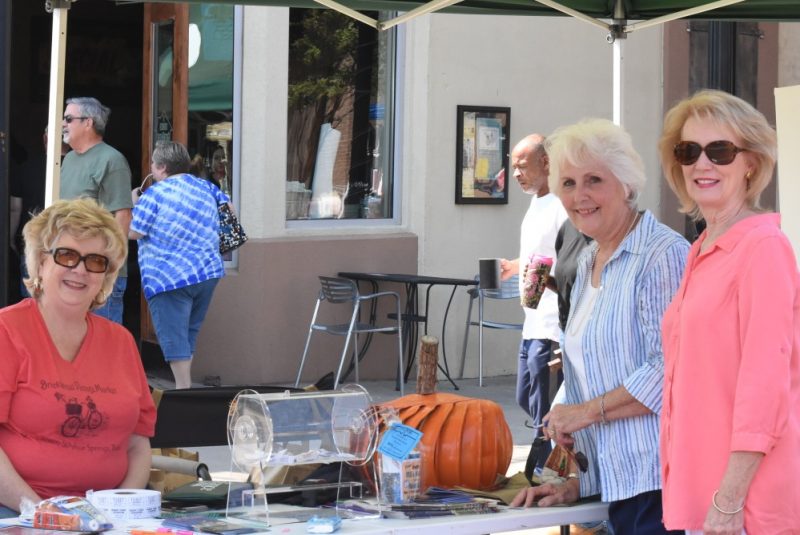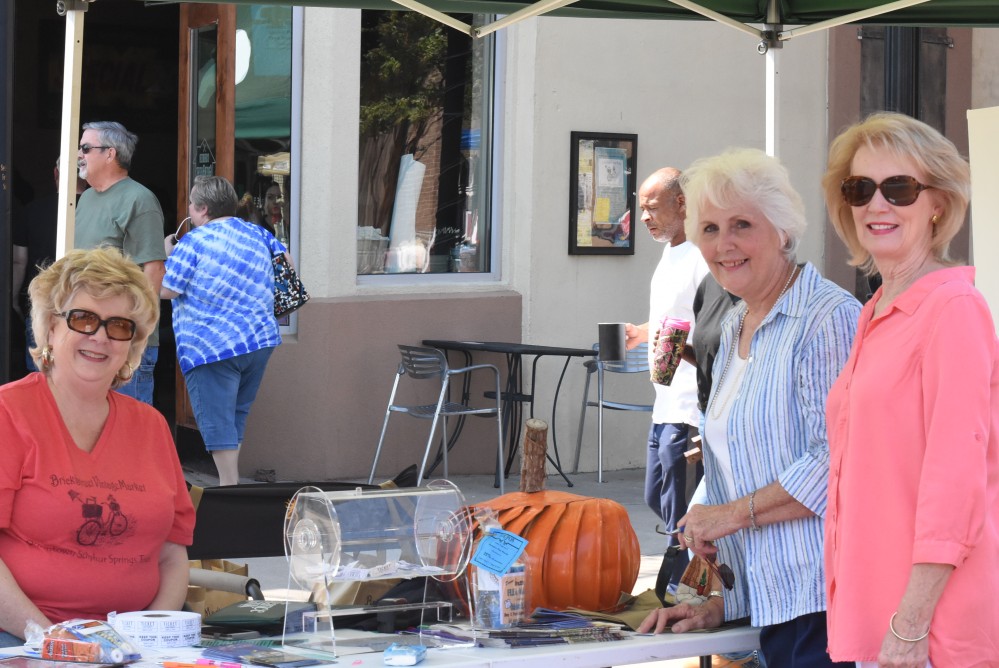 KSST sat down with DBA Secretary Linda Galligher to talk about the event. "Our president Judy Heilman did a fabulous job planning and marketing the event. The committee [that helped put on the Brick Street Vintage Market] consists of Danna Bain, Mike Elliot, and others."  Galligher said there was "a steady stream of people since 8:00 am." Many of the vendors and workers began setting up as early as 5:00 am on Saturday, September 16th.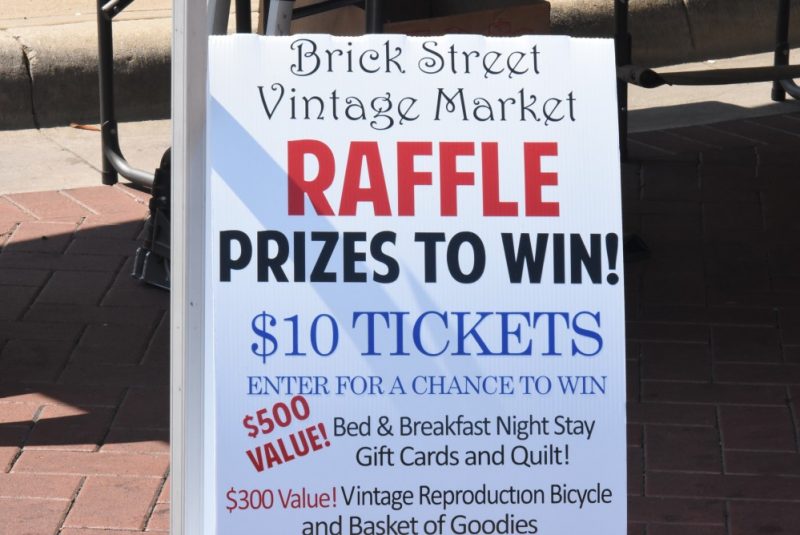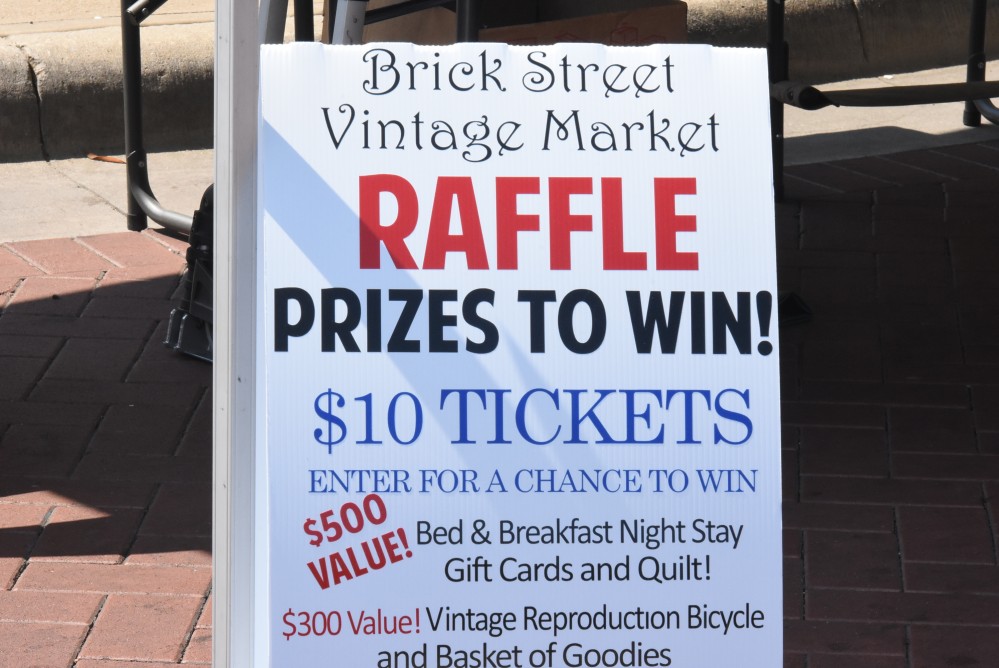 The DBA was also selling raffle tickets for three prize giveaways.
The First place prize was a $500 value with a one night stay at the Oaks Bed and Breakfast, as well as a $50 gift card, $200 worth of gift cards for downtown shopping, and a vintage postage stamp quilt from Danna's.
The Second place prize was a $300 value with a new reproduction of a vintage bicycle, a vintage style picnic basket filled with lots of items-bottle wine with glasses, coffee with mugs, and a vintage table cloth and napkins.
The Third place prize was a $250 value with a vintage kitchen cupboard from Gourmet Kitchen, and a $25 gift card from Gourmet Kitchen.
The Winners of the Prizes were:
1st place: Wanda Flat
2nd place: Mary Nell Bryant
3rd place: Tanya Ross 
Let's meet some of the vendors!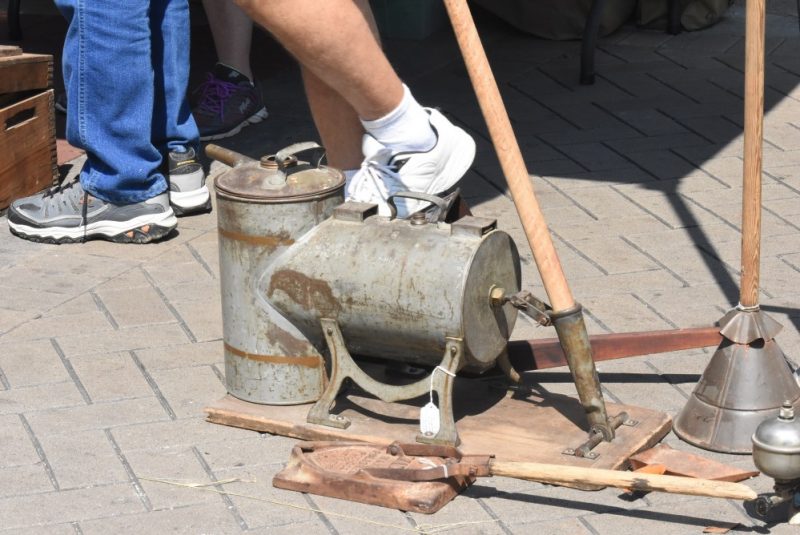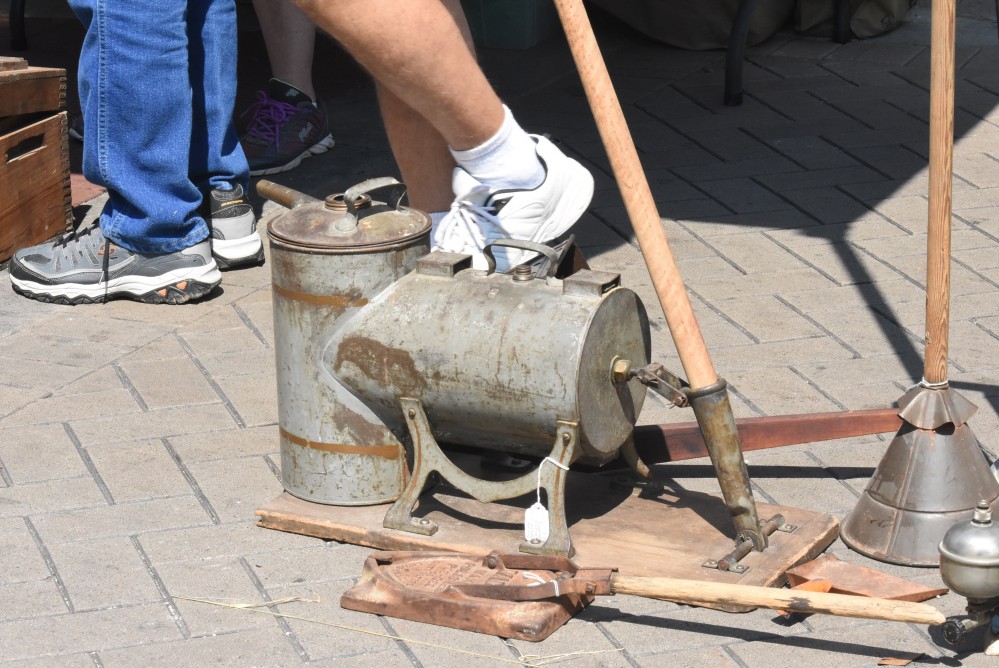 Glenda Fields from Fields Emporium based out of  Kemp Texas, had many items from the early 1800's such as a vintage 2 person vacuum-cleaner, a bed warmer  from the 1800's, butter churns, desks and chairs, and other items. Fields said her and her husband search estate sales, and travel the United States extensively looking for "odd and unusual vintage things". Fields explained that it was normal for them to drive multiple hours to get a special find. The couple resided in Sulphur Springs for 28 years, before moving to Kemp, Texas where their main shop is located. They also have a shop in Mabank. If you are looking for unique vintage finds- you found them!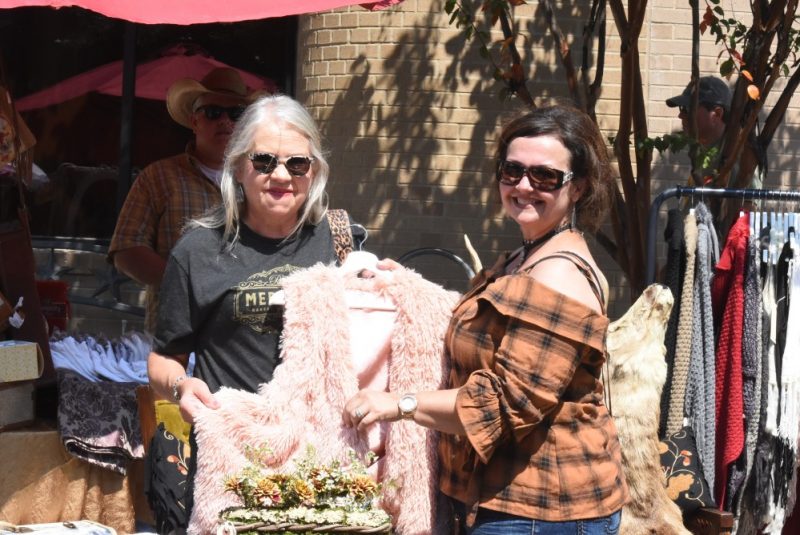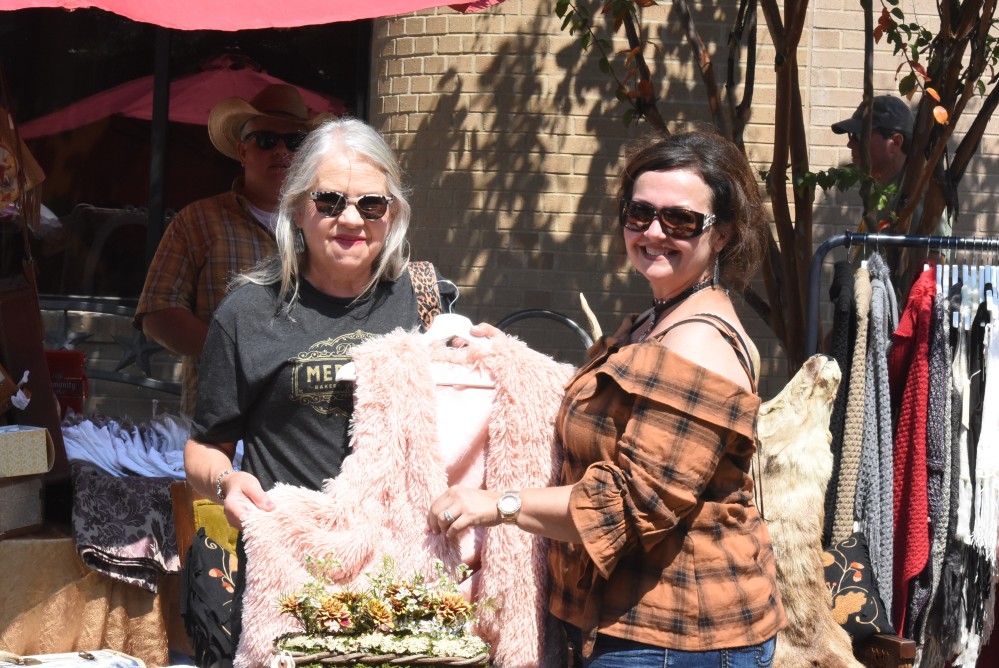 Danna's Buffalo Gals had their portable gypsy trailer out and were selling buffalo inspired jewelry such as buffalo nickel pendants, earrings, bracelets and rings. Customers could find leather handbags and fox tails, as well as country inspired crockery and place settings. She had many customers looking at trendy clothes, home goods, and authentic vintage furniture.  Danna's booth sure lives up to her "Southern charm" name!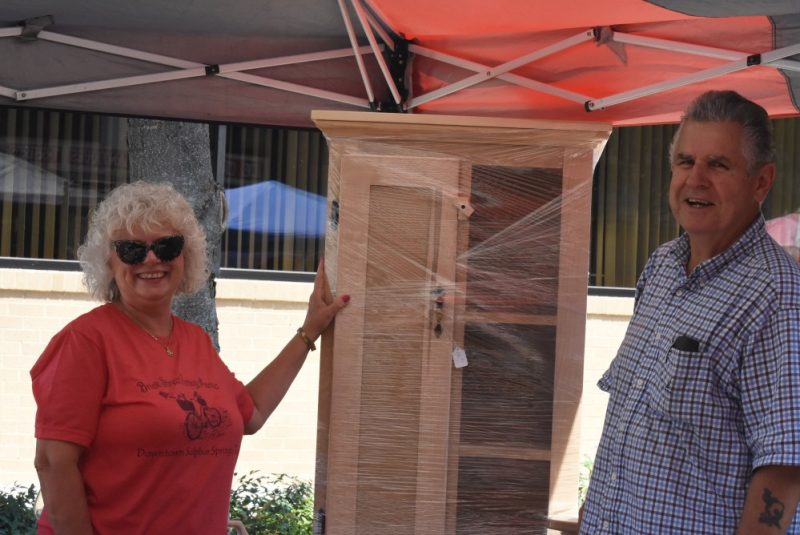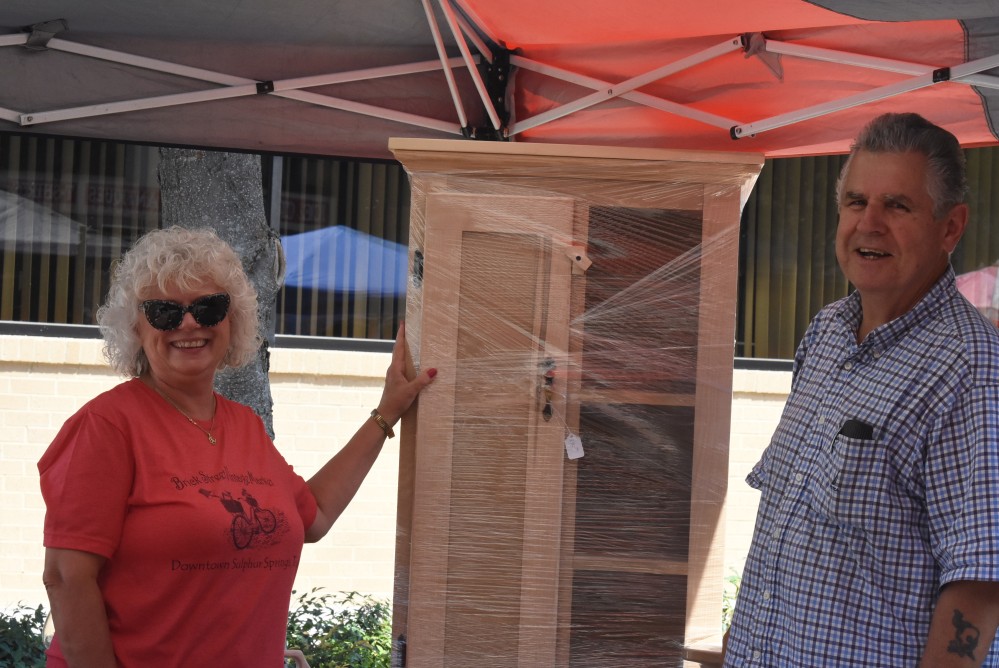 Sharron and Dennis Sink were sporting hand crafted woodwork furniture and items. Dennis has "practiced woodworking for 70 years." Dennis explained that it takes him approximately 2 days to build certain cabinet styles and that he has no printed plans, everything he builds is something he creates first in his mind. "I enjoy creating what I want." (But if you try, you might be able to talk him into making something you've dreamed about!) The couple sells beautiful cabinets, shelves, dressers, tables, among other pieces which are all fabulously priced. All of Dennis's pieces are gorgeous masterpieces.  Just one look and it is obvious that he is a meticulous master craftsman. Find samples of his work on the Facebook classified ads, under the name Texas Ranch Furniture.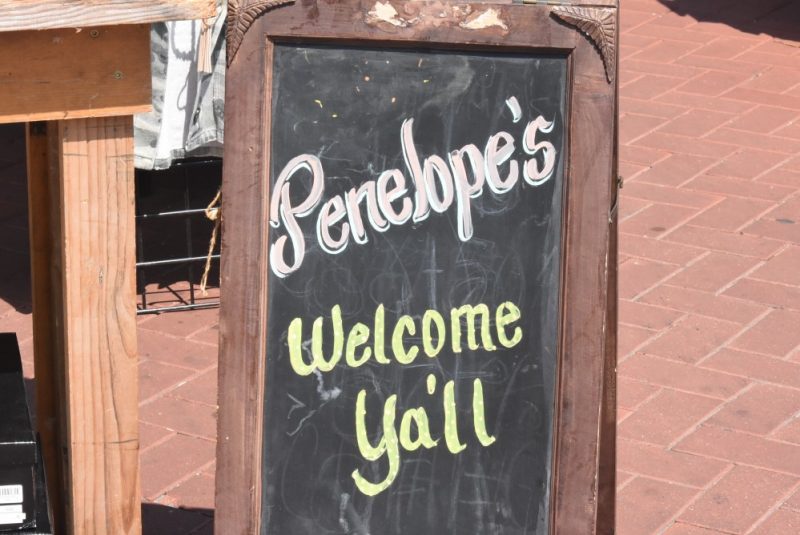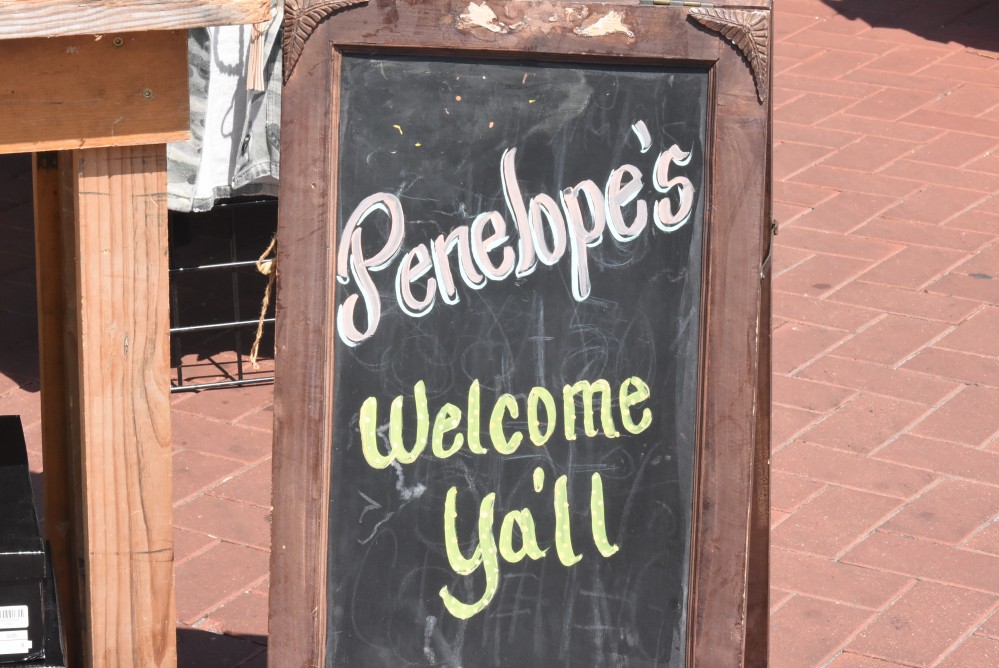 Penelope's was a fun booth founded by Penelope Langston, who can also be found at her booth of the same name in Canton. She also sells fashionable shirts, jewelry and sandals on Facebook under Penelopestexas. Penelope's is the perfect place to find "fresh and unique styles to match your personalities." She featured many styles and sizes in popular colors and prints at reasonable prices. Her booth was jammed pack with lots of trendy choices Check out her fabulous handbags too!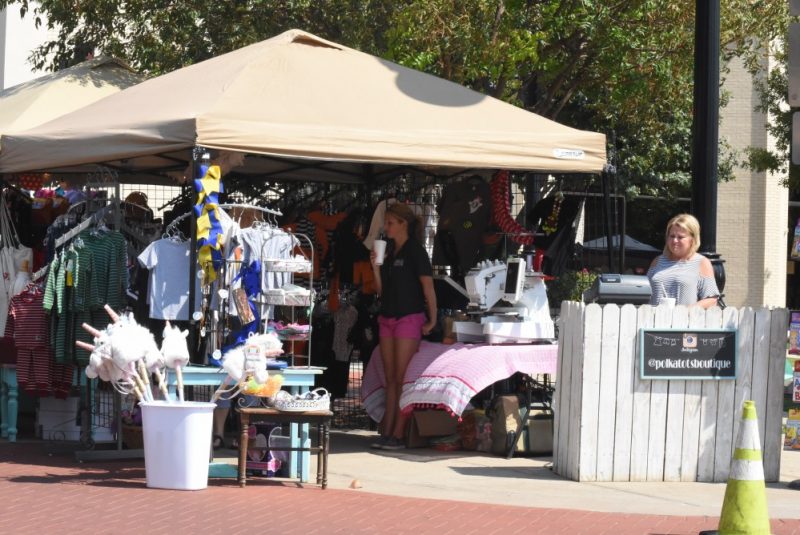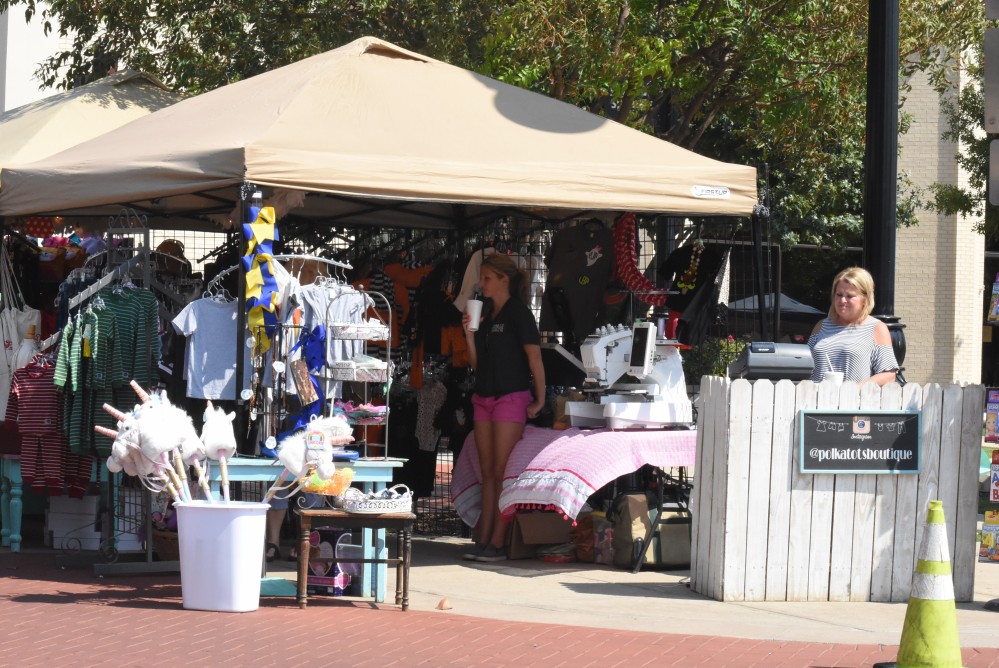 Polka Dots Boutique is owned by Glenda Henson. She can usually be found at a booth of the same name in Canton. She sells an assortment of fashionable children's clothes, pajamas, backpacks, and toys. She also had a portable embroidery machine and a heat applique machine on sight to customize shirts and other items. Her booth is a one stop shop for delightful gifts for the holidays.  Many of her children's outfits were decked out in fun holiday prints and themes with scarves to match!  Adults will be thrilled to know that Polka Dots Boutique is not just for children, she also sells hats and jewelry for adults too!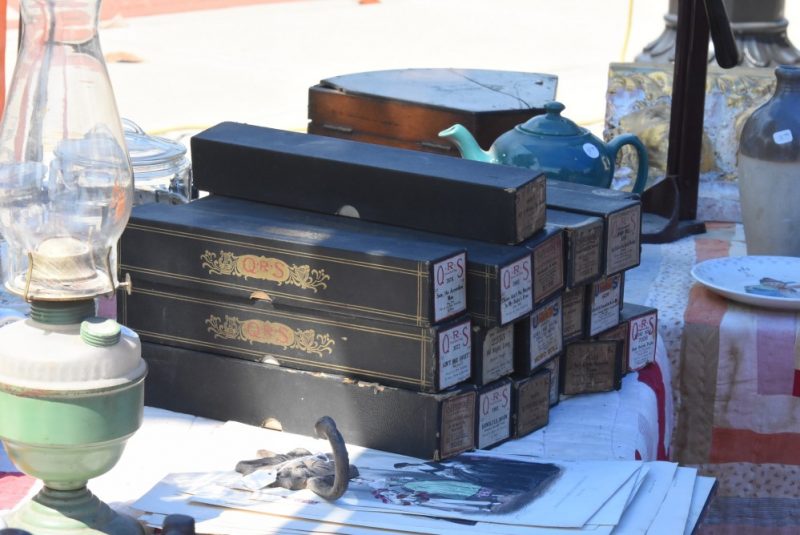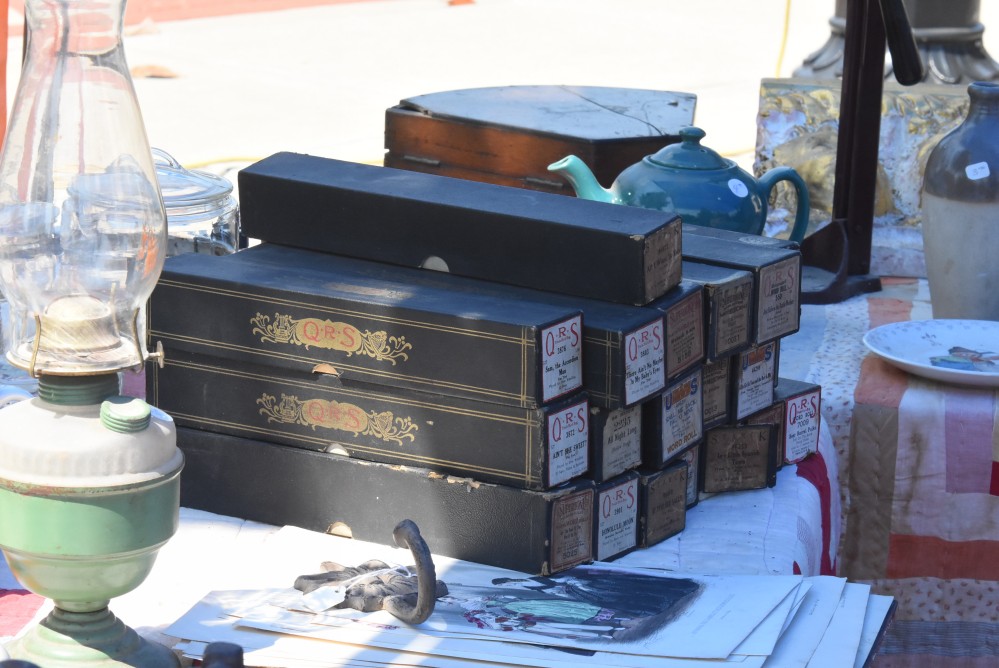 Steve Plumlee set his booth up with unique finds and antiques. His tent was called Cobwebs and Cubbyholes. He said that he got the name from a friend who looked at his former store and stated "This place is filled with cobwebs and cubbyholes!"  In addition to his fabulous finds he housed a variety of family relics and vintage player piano rolls, a plow, china dishes and more. Steve was a friendly fellow who loved to talk about the history and the story of the items he brought. "This was the first type of Karaoke!" Steve smiled as he showed the words on the piano roll. Steve has a vintage player piano at home to go with the rolls.  "Is all about finding the right person to love it."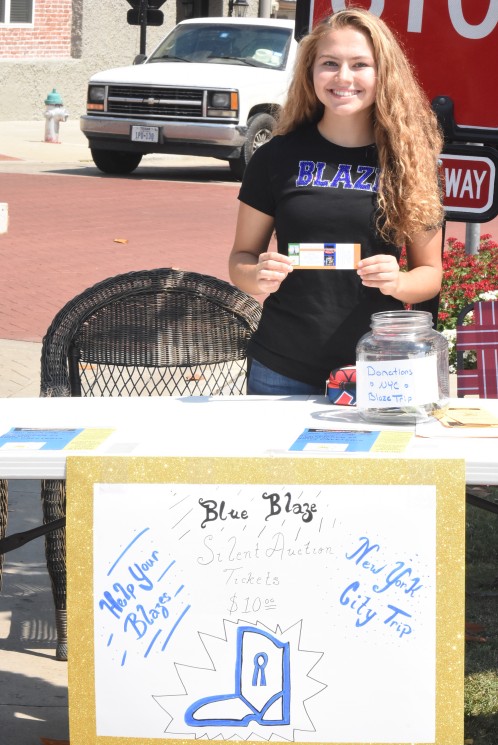 The Blue Blazes set up a table to sell tickets for their silent auction dinner on Saturday, September 23rd. Money from the fundraiser will go to raise money for their trip to New York to dance with the Rockettes. The Blue Blazes were also advertising for their Blaze Buddy Program-which partners a Blue Blazes Drill team member as a mentor-to the middle school Drill team, Sapphire Stars members. The Sapphire Stars Program is for girls 6th through 8th grade who are interested in learning about the Blue Blazes and want to perform similar activities at the middle school level. Aley Owens and mom, Beverly Owens were smiling as they talked about the dedication the Blazes have. "Practice starts at 6:00 am" Aley explained. But the early morning practice doesn't stop the Blazes from their excitement to be on the team!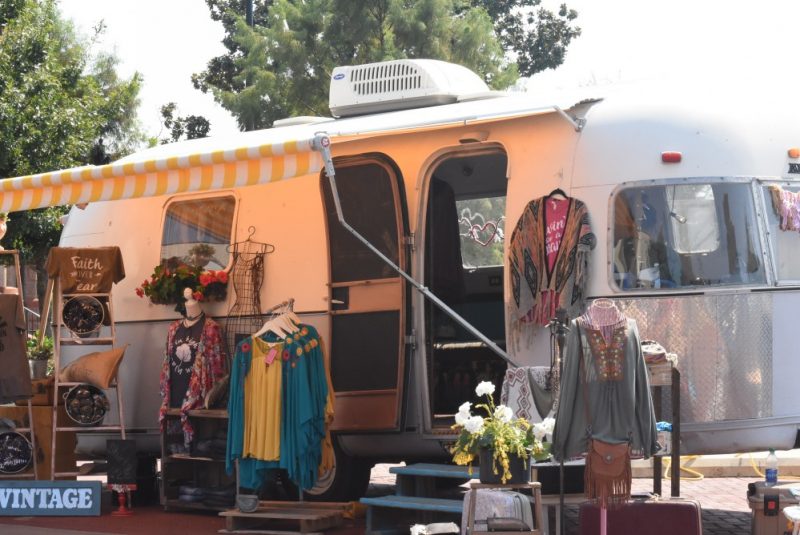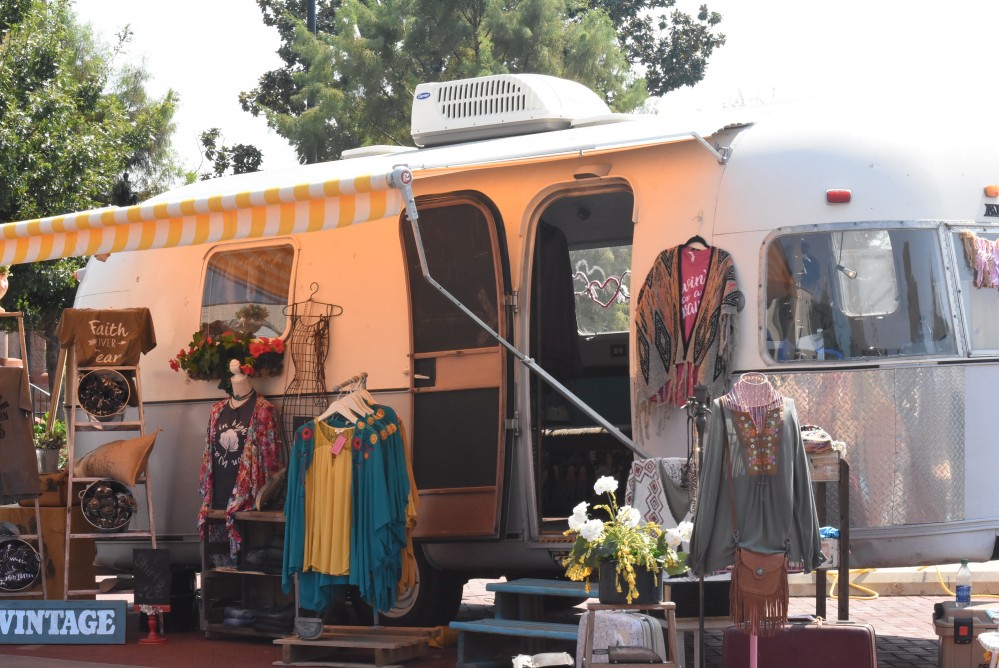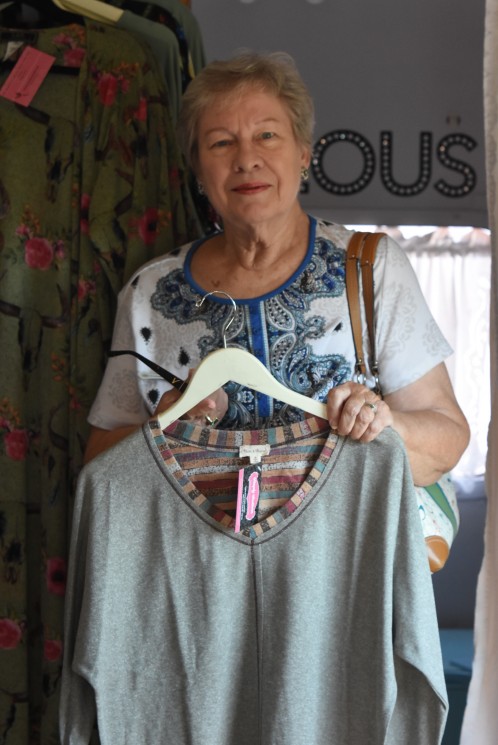 A Customer favorite at the Brick Street Market today was Daphne Bishop's and Terri Hickerson's "Simply Southern" vintage camping caravan shop. The adorable travel trailer offered respite as an air-conditioned escape from the Texas heat. Once inside customers found unique southern style fashions for a reasonable price. "Everything was so cute, soft, and stylish," one customer was overheard saying. The "Simply Southern" crew also had shoes, graphic t-shirts, and cute jewelry! Jody Phillips from Quitman found a multicolored sweater she loved. Daphne stated that she and Terri only "sell their items at shows like the Brick Street Market. We enjoy meeting people and making customers happy but also have time to enjoy our families as well!"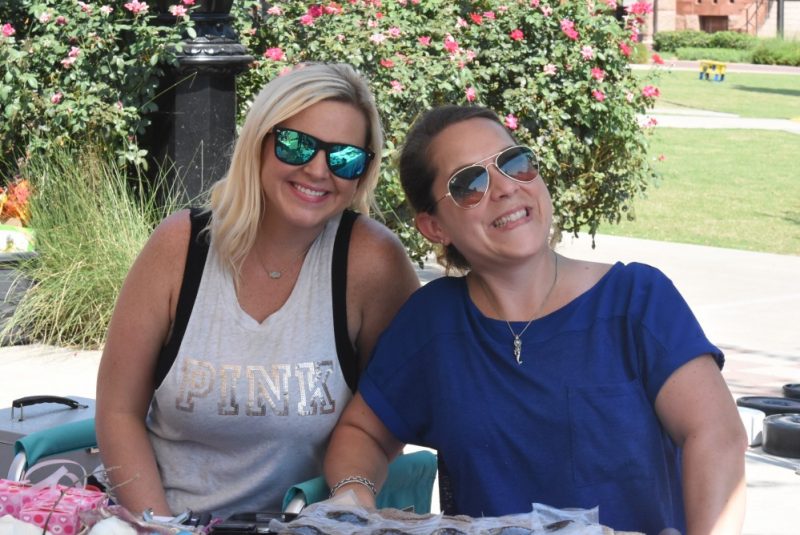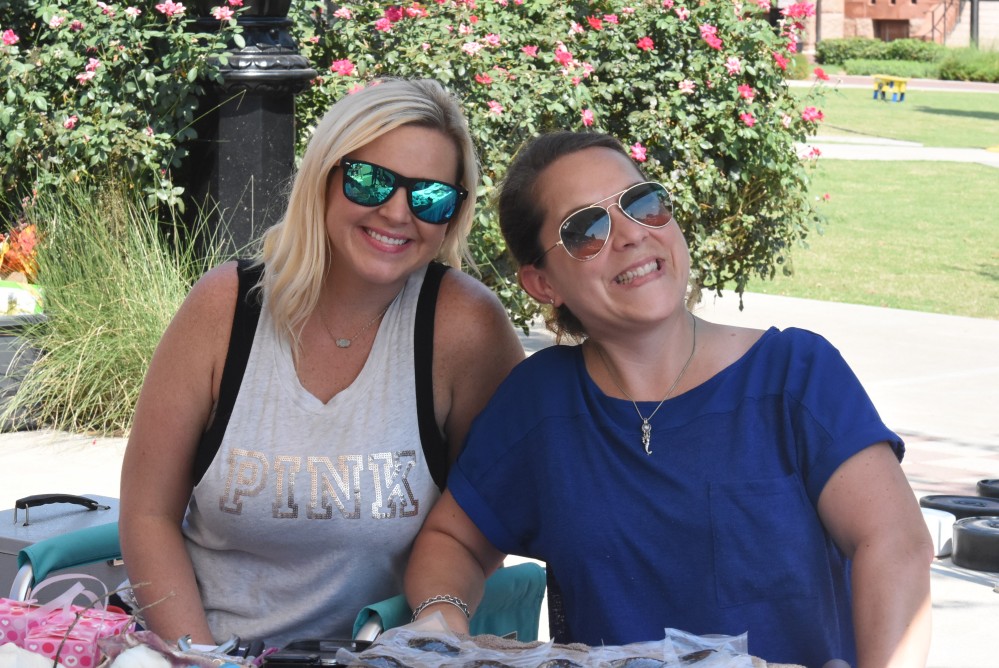 Jennifer Jones from "Abundance & Grace on Facebook" and Ashley Ortiz from "Junk Mafia" had a joint booth selling holiday platters and cute signs and various other vintage items. These two friends were having lots of fun as they chatted and sold items throughout the day. A sign out front advertised oysters for sale. Jones would let customers pick their oyster and then help them find the pearls inside. When asked how she got involved with oysters, Jones said she "loves anything to do with the sea!" She found a video about pearl harvesting and her husband bought her some. After that she was hooked! "It is so much fun to open one up and see what you get!" After doing exhaustive research she choose "an oyster farm in China which produces the shiniest and best pearls!" Jones was thrilled to be able to share her new found love of pearl hunting with her customers in Sulphur Springs.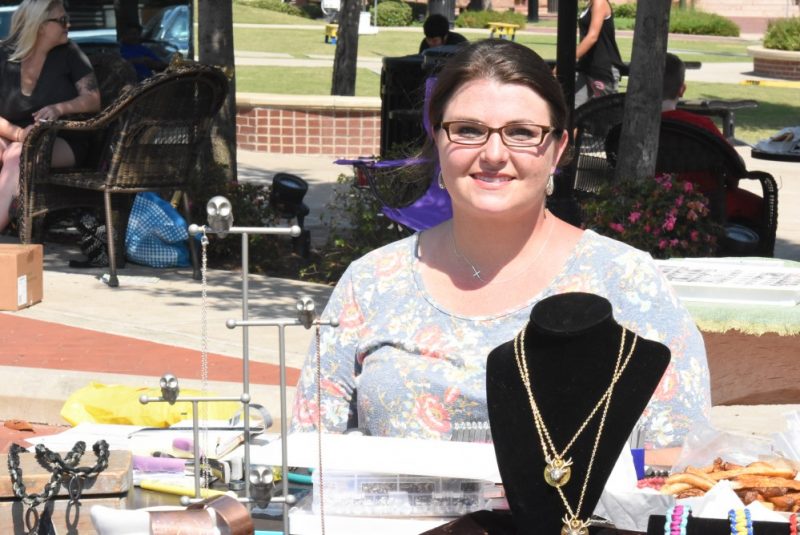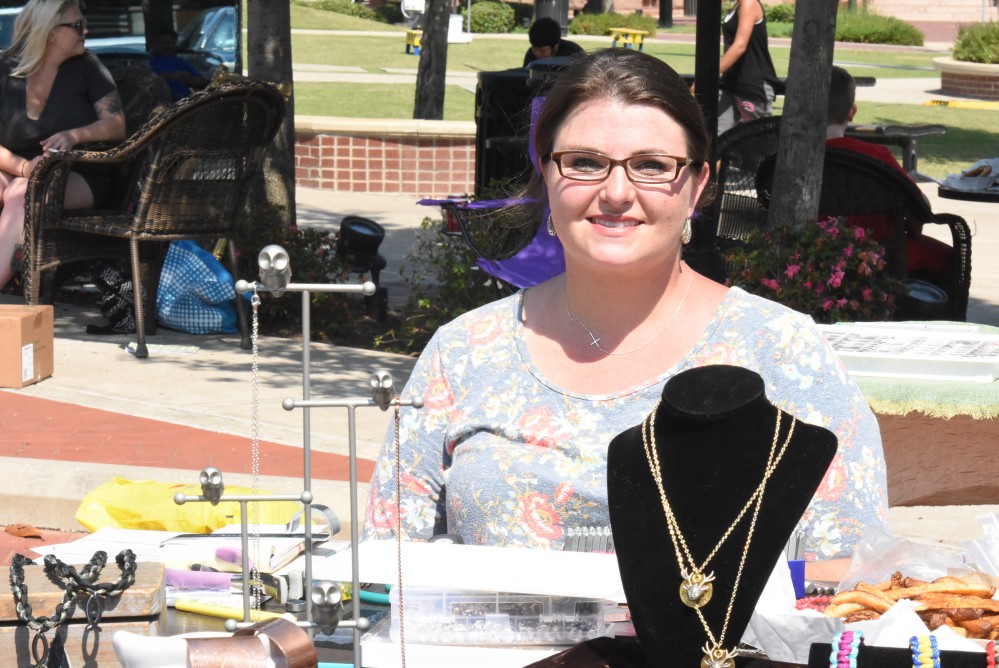 Rebecca Alexander from "Becca's Bangles" sells adorable custom made jewelry. She explained that she brings her charms and pieces with her to events so that she can make custom orders on sight .Rebecca said, if costumers don't find what they are looking for she will special order or try to create it herself. Stand outs were: arrow necklaces, owl shaped necklaces with cute sayings, and various indie style jewelry.  Rebecca clearly loves her craft and puts her heart and sole into her work as is evidenced by the craftsmanship of her pieces.  Contact her at (903)-348-4707 or email her at [email protected]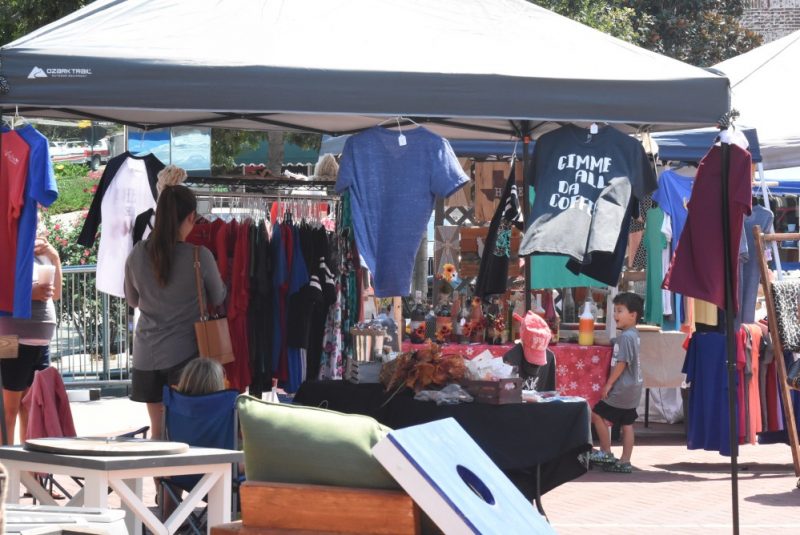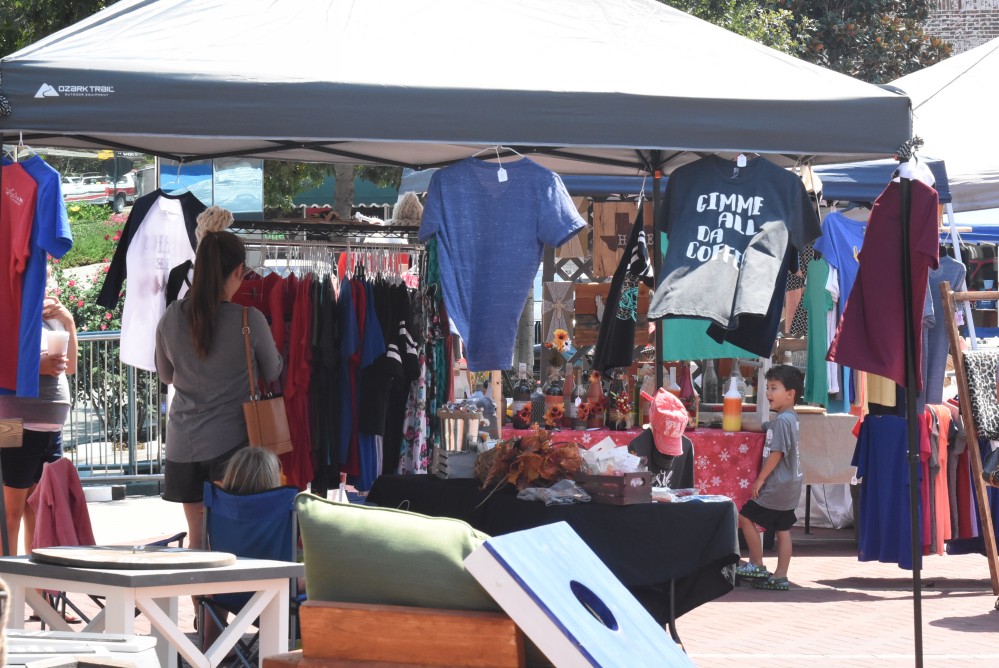 Jeanette Argenbright booth, J'Net's Unique Pallet Creations and More, sold unique and trendy t shirts with fun quotes and outstanding designs, fun holiday bottle vases and bottle-lights. Holiday signs and themes were a fan favorite. Jeanette truly cared about her customer's wants and needs.  Her designs are very creative and were "made with love and care!" Jeanette said that if she doesn't have your size or just what you want she will create it for you. She loves special orders and can be found on Facebook.
The Brick Street Market  is something to look forward to in the coming years. KSST overheard many customers and vendors saying how much they loved this event and how they hope it becomes a biannual or quarterly tradition for Sulphur Springs!