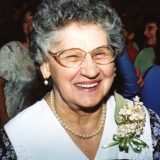 Anna Mae Stephens of Winnsboro Texas passed away September 9, 2017 in Mt Vernon Texas at the age of 92. The oldest of three, Anna Mae was born July 23, 1925 in Olathe, Kansas to the late Charles and Edith Radcliff. She was raised in Chillicothe, Missouri graduating from Chillicothe High School. Upon graduation, she went to work for Southwestern Bell Telephone Company. She married Cpl. Donald Vernon Stephens on February 27, 1945 in Our Saviors Lutheran Church in Kansas City Kansas
Anna Mae worked for Southwestern Bell Telephone Company and United Telephone Company for 20 years and was a homemaker and mother of five. She retired from K-Mart in Houston Texas in 1982, moving to Winnsboro. She was a member of Walnut Street Baptist Church.
Anna was preceded in death by her parents Charles Raymond and Edith Emma (Schumacher) Radcliff, her husband of 59 years Donald Vernon Stephens Sr, granddaughter Tammy Lynn Register, son Donald Vernon Stephens Jr. and, sister-in-law Betty Radcliff
Survivors include: daughter-in-law Mary Stephens of Moore Oklahoma, sons and daughters-in-law Charles and Barbara Stephens of Winnsboro Texas, Robert and Kitty Stephens of Winnsboro Texas, daughters and sons in law Edith Ann and Gomer Gray of Winnsboro Texas, and Margaret Louise and Raymond Kremer of White rock New Mexico. Also, a sister and brother-in-law Esther and Kenneth Scholle of Smithville Missouri and a brother Raymond Radcliff of Chillicothe Missouri.
She is also survived by 25 grandchildren including spouses, 27 great-grandchildren, and 1 great-great-granddaughter.
Family will receive friends at Beaty Funeral Home in Winnsboro on Friday evening between 6 and 8 PM. Memorial service will be held Saturday morning, September 16th at Beaty Funeral Home in Winnsboro Texas at 10 AM with Brother David Taylor officiating. Interment will be at Lee Cemetery in Winnsboro Texas following the memorial service.
Pallbearers are: Melissa Brown, Selene Musslewhite, Rebecca Gilbreath, Stacy Stephens, Don Stephens III, Charles Stephens Jr, Shawn Stephens, Eric Stephens, James Gray, Clint Stephens, Joseph Stephens, Patrick Stephens, Logan Stephens, and Dakota Payton.
If desired, memorials may be made to the Walnut St., Baptist Church or Meals on Wheels, both of Winnsboro Texas.