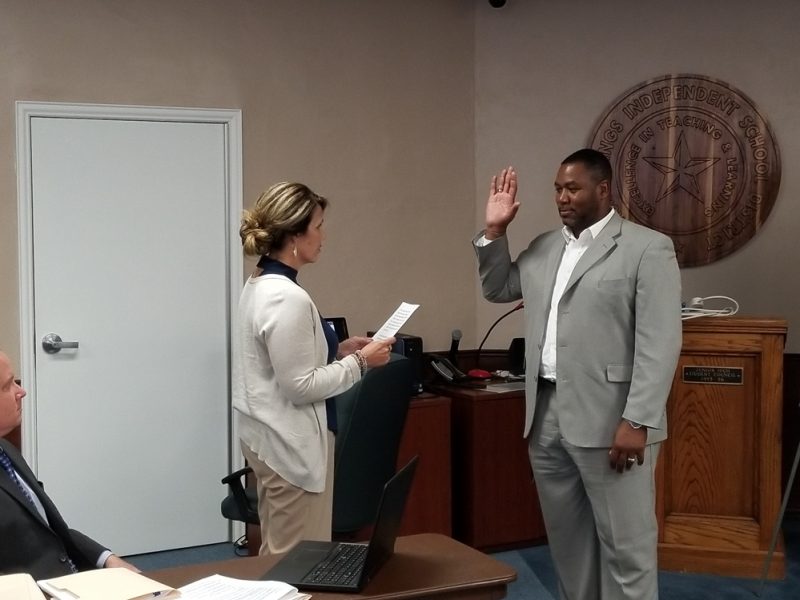 Don Sapaugh resigned as a member of the Sulphur Springs School Board Monday night August 14, 2017 during their August regular meeting. His resignation ended almost 12 years of service on the board. His resignation was motivated by the desire of his wife to reenter the teaching profession. One cannot serve on the board when a family member is hired as a teacher. Appointed to Sapaugh's place on the board is Kerry Wright who was present and sworn in Monday night. Wright has previously served on the SSISD board.
In other action, the board approved the student handbooks that add a provision for anonymous bully reporting using a link on the school website. New language addressing authorized and unauthorized persons on campuses, allowing business, civic, and youth groups up to 10 minutes to address students, middle and elementary schools policy regarding promotion and retention, and high school no pass, no play allowing students in honors classes and advanced classes, exempted by state, to meet a base line grade of 60 in those classes were also noted.
Dress code, hairstyles, and facial hair standards will now be based on decisions made by principals. Facial hair for high school males may now be a well-groomed, neat beard. Hairstyles cannot have a distracting or unusual design. Inappropriate dress will not be allowed. Principals will determine what are acceptable or unacceptable standards using common sense and community standards. Students in extracurricular activities can be held to a higher standard than other students, according to Assistant Superintendent Josh Williams.
Other items addressed were the employee handbook, Student Code of Conduct, teacher appraisal and calendar for appraisals and legal polices that have been updated.
Faculty/Visitor meal price increase was announced. Prices are breakfast, $2.25 and lunch, $3.75
PERSONNEL
Resignations
Chelsea Weaver                Art Teacher             Middle School
New Personnel
Jill Sapaugh            Grade 5 Teacher               Douglas
Jordan Ortloff                    Art Teacher             Middle School