Billie Ruth Standbridge, known as "B.R." to her friends, and Danna Bain of "Danna's Southern Charm and The Florist" are members of the Sulphur Springs Downtown Business Alliance.  DBA membership is made up of individuals and businesspeople from all over town, not just downtown. So, it was with great enthusiasm that these ladies stopped by the studio to share the news about a fun, colorful public event being hosted in mid-September that everyone is invited to come downtown for.  With Wildcat Homecoming that same weekend, the influx of out-of-towners will want  to know about it too!

The 18th year of the Lone Star Heritage Quilt Guild's "Quilt Show" is set for September 15 and 16 at The Roc, just steps from downtown Sulphur Springs. Patrons from all over NE Texas know that this show usually hangs over 100 beautiful handmade quilts for judging and viewing, and is a wellspring of interest for quilt lovers who come to view antique and vintage quilts and those stitched from modern patterns by quilters of all ages. Cost is $5 person admission to enter the show Friday September 15 from 9-5 and Saturday September 16 from 9-3.
The Brick Street Vintage Market is the first of it's kind in the shopping district of downtown Sulphur Springs. It is set for one day only, Saturday September 16  starting at 8am and within a half-block walking area will offer a  kaleidoscope of vintage, antique and repurposed  items, artisan products, arts and crafts, country and holiday decor. You can stroll the streets and shop inside the businesses. Booth space is available for individuals and businesses to set up shop and  display their vintage-theme wares.  Contact DBA President Judy Heilman at Gourmet Kitchen and Company at 217 Main Street or Danna at 438  Gilmer Street or any member of DBA for quilt tickets, entry form and to answer questions.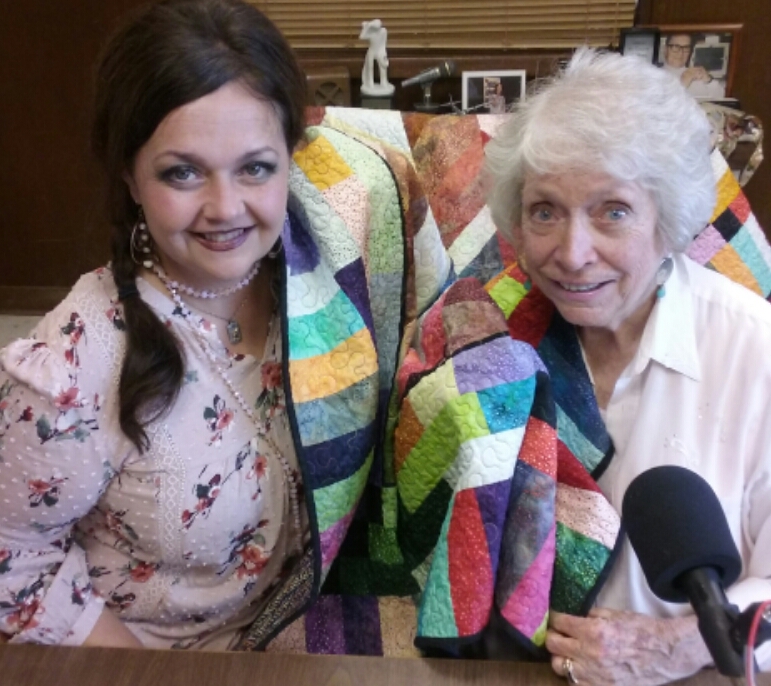 DANNA AND BILLIE RUTH DISPLAYING THE RAFFLE QUILT FOR THE 2017 QUILT SHOW