Texas is #13 on the strictness sale. In Texas there were 987 fatalities due to DUI incidents in 2016. In 2016 Hopkins County had 39 DUI crashes, specifically 8 were in Sulphur Springs. To view the full report from
TXDOT click here.
 This map shows the ranking of the 2017's strictest and most lenient states on DUI laws.
Many courts are issuing ignition interlock devices, to prevent offenders from starting their cars when they might be drunk. Texas Drunk Driving Statistics stated "On June 19, 2015, Texas became the 25th state to pass an all-offender ignition interlock law. It requires all people caught driving while intoxicated (DWI) to have an ignition interlock installed on their vehicles in order to have their driving privileges restored following an arrest. Since then, Texas drunk driving deaths have decreased by 8.5% "
KSST contacted local law enforcement to find out how Sulphur Springs and Hopkins County compares to the entire state.
Hopkins County Lt. Tanner Crump from the Sheriff's Department explained the process. "If somebody is pulled over and suspected [for drunk driving], the officers will test a sobriety test. [If the person fails the sobriety test] then the officer will conduct a blood test. If the driver refuses, another officer will detain and take them to a hospital while the first officer gets a warrant and a phlebotomists will take the blood sample and deliver it to the DPS for testing."
"I've been here 12 years, and DUI's have been lower since we went wet. Some officers used to be afraid of the paperwork [for DUI's] but now they enjoy it. We have 5 intoxication officers, [they have to be certified and] go to a week long school. They keep up their training and take tests to be able to operate the [breathalyzer machine]."
Lt. Crump explained the difference between a DUI and a DWI. "DUI is driving under the influence. DWI is driving while intoxicated." Some states only use one classification but "Texas has both. 10 years ago, TX [legislature] created a DUI minor charge." DUI's can only be issued to people under 21 with a Blood-Alcohol  Content (BAC) above .00. "It is a class C misdemeanor, and [the offender] receives a ticket and it would go on their driving history." The misdemeanor would become a felony prosecuted by the District Attorney if: there are kids in the car, or if it is the 3rd offense (2 previous convictions). Lt. Crump estimated 75% of the DUI's are misdemeanors, while 25% are classified as felonies. Additionally prescription drugs and illicit drugs, can impair a drivers ability to safely operate a vehicle, and you can be arrested for a DWI if you are under the influence of drugs as well.
The legal limit for persons 21 and over is .08, however even if someone is under the legal limit but can't complete the sobriety test or are a danger to operate a motor vehicle safely, they can still be considered for a DWI. Use this chart as a guideline for safe drinking.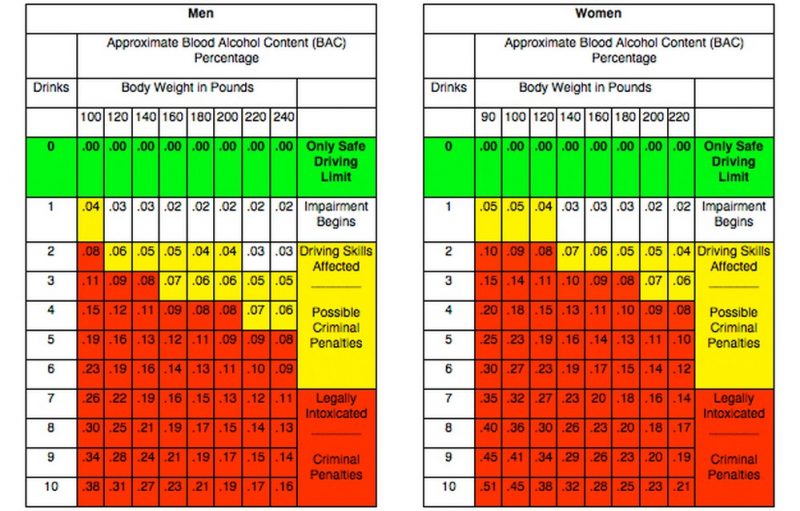 Lt. Crump asked for the public's help by "notifying the sheriffs office for even suspected texting and driving…Give us a call and we'll check it out. I want to remind [the public] that people are still drinking an driving, and you need to report that. Anytime an innocent person loses their life, [there] is obviously a problem…Overall I think [Hopkins County] is in a good place, as we continue to grow, our numbers and percentages will increase [but we are doing all that we can to keep people safe]."
Sulphur Springs Police Department Patrol Captain, Jason Ricketson, said "I don't think [drunk driving] is a major crime in Hopkins County, [but] it's always a problem state and nation wide. We're trying to prevent accidents. If you plan on drinking and driving you're going to get caught. Don't drink and drive. Plan ahead. Always make sure you have a designated driver."
Mothers Against Drunk Driving Sulphur Springs president, Becky Hicks, has been putting on an awareness walk for Hopkins County "Walk Like MADD". "Drunk driving is 100% preventable. It's not don't drink. It's don't drink and drive." The walk is about "the victims and educating the public. We put out pairs of shoes that represent the deaths." 2 years ago they laid out 1,360 pairs of shoes. Last year they put out 1,067 pairs, and this year they will put out 987 shoes. "Walk money goes towards victims, power of the parent, and educating the public. Form teams, remember victims, have fun, and raise money for a good cause."  North East Texas's Walk Like MADD is on September 30th, from 5:00-6:00 pm. For registration and more information visit the Walk Like MADD website.