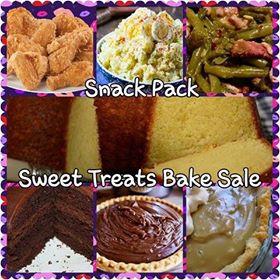 A Lot Of Us Will Be Running Errands, Going To Different Garage Sales, Doing A Little Shopping Or Doing A Little Pampering This Saturday. And If You Are Like Me, You Get A Little Hungry While Moving Around. Well
Saturday, August 5th At 12:00p.m. Ms Kimberly Shepard Will Be Selling SNACK PACKS.
The Snack Pack Includes Fried Chicken, Potato Salad And Green Beans For A Small Fee Of $5.00. Now That's What You Call A Good Deal. And If You Have A Taste For Something Sweet Or Need A Dessert To Go With Your Sunday Dinner, She Will Have Plenty Of Sweet Treats For Sale As Well. Some Of The Baked Goods Will Be Homemade Pound Cake, Delectable Chocolate Cake, Yummy Homemade Chocolate Pies And Caramel Pies, Brownies And Plenty More.
So Give Ms Kimberly A Call At (903)689-6216 To Place Your Orders…