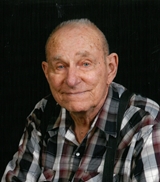 Funeral Service for Sam Hershey, age 87, of Sulphur Springs will be held at 10:00 A.M. on Tuesday, August 8, 2017 at Murray-Orwosky Funeral Chapel with Jerry Savage officiating and Jim Thompson assisting.  Interment will follow at Seymore Cemetery.  Visitation will be held from 6-8 PM on Monday, August 7, 2017 at Murray-Orwosky Funeral Chapel.  Mr. Hershey, passed away Friday, August 4, 2017, at his residence.
Sam Ray Hershey was born on July 11, 1930 in Hereford Texas to Horace and Juanita Hershey, the oldest of three boys.  Throughout his life he served others, as a Boy Scout, where he achieved the rank of Life Scout, he helped prepare meals for victims of tornadoes.  He was active in Bible Chair at Texas Tech University, from which he graduated in 1952.  He married Evelyn Elizabeth Seymore, August 11, 1951, in Lubbock Texas.  Sam, Evelyn and their four children, Lowry, Rhealyn, Holly and Sandra were one of the starter families at the Golf Course Road Church of Christ in Midland, Texas.  Sam began his career in the oil industry, worked in construction and later was an over the road truck driver, calling himself a "professional tourist".  He was active in Toastmasters International, serving a term as District Governor. Sam was a member of League Street Church of Christ.
Sam is survived by his son Lowry and wife Brenda of Amarillo, TX and their four children, Declan, Rachelyn, Ethan and Eoin; daughter, Rhealyn Samuelson and husband Gary of Denton, TX and their seven children, Jessica, Karyn, Rachel, Esther, Lydia, James and Deborah and daughter Linley Glover of Angleton, TX; daughter Holly Phillips and her daughters, Roxanne and Rebecca; daughter, Sandra Bernight and husband Jeff of Brashear; eight great grandchildren; brother, Homer of The Woodlands, TX.
He was preceded in death by his wife Evelyn of 61 years, his brother Joe of Amarillo, and his grandson Micheal.
Arrangements are under the direction of Murray-Orwosky Funeral Home.