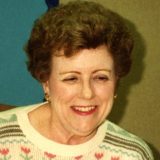 Rue Nell Loyd Meaders, age 87 of Winnsboro, passed away on Wednesday August 3, 2017 in Winnsboro. She was born in Yantis, TX on October 22, 1928 to the late Edward McKinley Loyd and Ava Ruth Gilbreath Loyd. She was a homemaker. On April 7, 1950, she married the love of her life, Trent Stuart Meaders in Dallas, TX. They were married 62 years until Trent passed away in 2012. During their 62-year marriage Trent worked as a tax attorney for Exxon/Mobil and Nell kept the household running. They lived in Overton, TX; New London, TX; Tyler, TX; Granada Hills, CA; Metairie, LA, and finally settled down in Houston, TX. Nell was an active member of the West University Church of Christ. She taught the 2-year-olds Sunday school class for 25 years. She also taught 3-year-olds in numerous vacation Bible schools, Tuesday school, and worked with the Mother's Day out program. She loved little children and they loved her, calling her "Miss Nell.†Nell loved zinnias, cosmos, roses, and gardenias. She did not like snakes, even rubber ones dropped on her while ascending stairs. She knew how to laugh well, shell purple hull peas, make ice cream, fried chicken with cream gravy, fig preserves, and a pretty mean batch of banana nut bread. She once rescued a collapsing wedding cake (prior to the arrival of the bride and groom) by securing it with her bare hands until help could arrive. She also enjoyed family camping outings to Lake Sam Rayburn, Lake Somerville, Lake Bob Sandlin, as well as trips all over New Mexico, Colorado, Utah, and Wyoming. After Trent retired from Exxon/Mobil they moved to southwest Fort Worth where they were active at the Alta Mesa Church of Christ where she enjoyed volunteering in the church's food bank. In 2000, Nell and Trent moved to a house on Lake Fork near Yantis. She and Trent were active members of the League Street Church of Christ in Sulphur Springs, TX. After Trent's death in 2012, Nell moved to Autumn Wind Assisted Living in Winnsboro.
Nell was preceded in death by her parents, a brother, Bob Harold Loyd, a sister, Eddie Ruth Fitzgerald, and her husband, Trent. Nell is survived by her daughter, Julia Meaders Potts and husband Norman of Yantis; son, Eddie Loyd Meaders and husband Matthew Scott Openshaw of Lewisville, TX; two grandchildren Laycee Harvey and husband Uriah Harvey of Alba, TX; Bradley Taylor Potts of Yantis; and two great grandchildren, Henley Tyler Lewis of Yantis and Cooper Lee Harvey of Alba; sister, Dorothy Jean Weir of Yantis; brother Loye Carroll Loyd and wife Barbara of Midland, TX; and several first cousins Elthie Meads of New Boston, TX; Lavenia Atchley of Holly Lake, TX; Maureen Shaw of Coppell, TX; and numerous nieces, nephews, and cousins.
While flowers are nice, consider a donation in her memory to the Trent and Nell Meaders Political Science Student Scholarship at Abilene Christian University, or to your favorite charity.
Visitation services will be held from 3:30 pm – 5:30 pm on Sunday, August 6, 2017 at Beaty Funeral Home in Winnsboro, TX. Graveside Services will be held on Monday, August 7, 2017, at 11:00 am, at the Rock Hill Cemetery with Mr. Gerald Elloitt officiating.