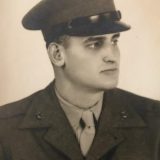 "Ken" was born December 5, 1929 in Leonard, TX to Olin P. and Annie (Hardage) Folmar.  He spent his early school years in Yantis, TX. He attended Sunset High School in Dallas, TX where he played football and was awarded The Sunset High Dad's Club Award in mechanical drawing and photography.  He then attended East Texas State University on a football scholarship.  Upon suffering an injury that ended his football playing days he enlisted in the Marine Corps.  Before leaving for boot camp he met Dorothy Virginia Truly and it was "love at first sight", that lasted almost 68 years.  They were married November 26, 1949.  He served two years with the title of "Field artillery fire control man" and was honorably discharged as a sergeant from the US Marine Corps. After his military service he worked in the oil and gas industry where he was able to use his drafting skills and retired after 36 years as the head draftsman for Texaco in Midland, TX.   Ken and Virginia lived in Midland 32 years where they raised their children, Kenny and Laura. Ken enjoyed officiating six man football games, coaching his son in various sports which included football, little league and American Legion baseball.  His favorite hobbies were photography, woodworking, family camping and watching the Dallas Cowboys and Texas Rangers. After his retirement, his biggest dream came true as he and Virginia in 1989 built a beautiful home on the family farm just outside of Yantis, TX, where they spent remainder of their lives.
Ken is survived by his wife Virginia, his son Kenny and wife Kirsten, daughter Laura and husband, David. Grandchildren, Chandler (Natalie), Abby and Rachel. Great grandchildren, Aspen, Ayden and Vivienne.  He is now joined with his grandson, Taylor in heaven.
Military graveside honors by the Hopkins County Military Coalition will be held at the Yantis cemetery on August 19th at 11:00 am.  There will be no formal visitation.
Arrangements are under the direction of West Oaks Funeral Home.