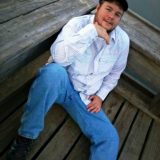 Jason Dale Scroggins, 32 of Cumby, passed away after a long, courageous battle with brain cancer on Sunday, August 27, 2017 in Greenville. Funeral services are scheduled for 10 A.M., Thursday, August 31, 2017 at Coker-Mathews Funeral Home Chapel with Rev. Tom Frisbie officiating. Visitation will be Wednesday, August 30, 2017 from 6:00 P.M. to 8:00 P.M. at the funeral home. Burial will be in Evergreen Cemetery in Paris, Texas.
Jason was born March 26, 1985 in Paris, Texas to Buster Scroggins and Kathy Withers Scroggins. He married Nikki Thomas in Sulphur Springs on April 12, 2012. He worked as an aircraft mechanic for L-3 Communications in Greenville and was a member of Fellowship Christian Church in Sulphur Springs.
He is survived by his wife, Nikki Scroggins of Cumby, children, Gregg and Kaitlyn of Cumby, parents, Buster and Kathy Scroggins of Greenville, brothers, Brett and wife, Heather of Commerce and Ryan, niece and nephew, Sofia and Elijah, aunt and uncle, Sheila and Tim Coursey of Paris and grandmothers, Mary Scroggins of Paris and Janice Bratcher of Paris.
He is preceded in death by his grandfathers, Moss Scroggins, Paul Withers and Leonard Bratcher.
Memorials may be made to the American Brain Tumor Association, 8550 W. Bryn Mawr Ave. Ste. 550, Chicago, Illinois 60631.