North Hopkins Volunteer Fire Department Chief Bobby Harris and Hopkins County Fire Chief Andy Endsley were guests on the KSST Good Morning Show to talk about this weekend's 'Hot August Night', an annual fundraiser for Hopkins County Fire Departments. There are two main features: a BBQ Cook-off held as a fundraiser with serving at 5pm Saturday Aug 12, and the Scott Firefighters Combat Challenge, which is an International competition for firefighting departments of all sizes.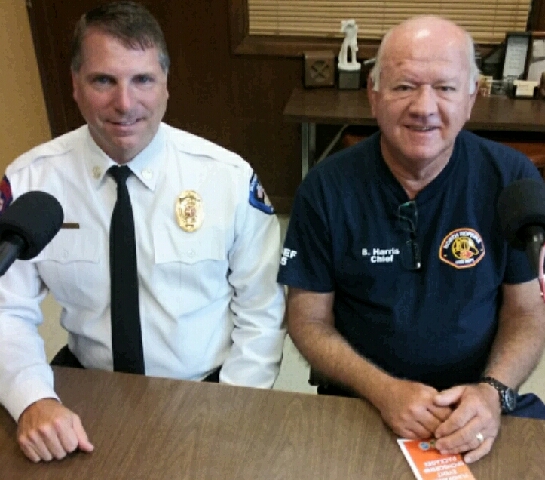 The first section of the firefighter challenge will begin at noon Friday August 11, and spectators are welcome to the free admission event. The meet is a qualifier for advanced competition.  In 2016, a 5-man team from Sulphur Springs Fire Department as well as members of the Cumby Volunteer Fire Department passed the two-minute qualifier to advance to World competition in Montgomery, Alabama. A Saltillo Volunteer Fire Department team also qualified but could not attend due to schedule conflicts. At this weekend's challenge, you will see teams from other states and surrounding counties at the meet. A Scott Challenge set-up crew will arrive in Sulphur Springs to put the contest structure in place on the SSHS parking lot and Civic Center grounds. ESPN is expected to be on hand to cover portions of the competition.
Chief Endsley explained his experience from last year's "Six-Story Tower Climb" trial, having joined five other local firefighters as a Relay Team in the strenuous two-minute qualifier.  Each firefighter (male and female) will wear full bunker gear plus carrying a High-Rise pack, thus bearing more than 100 pounds of weight.  The firefighter climbs the steel staircase which is six flights high as quickly as possible (staircase will be erected on the school parking lot). In his ascent, he may step on every stair or on every-other stair. At the top, he will use a hand-over-hand method to pull a 100-foot, three and a half-inch hose up from the ground. Next he utilizes the Keiser Sled to simulate chopping with ax or sledgehammer. He then goes to ground level and using a serpentine method, drags a hose through a 100-foot maze. He then steps up to project water from a fire hose through a set of doors at a target. Last, he must drag "Rescue Randy" the 185-pound rescue mannequin for 100 feet. All this must be performed within two minutes to qualify. This section of the contest may be performed by a teams and by individuals.
There are twelve fire departments in Hopkins County. 100% of funds raised during Hot August Night will be used for Volunteer Fire Departments, which through agreement, assist each other wherever the need is in Hopkins County for not only fires but for other emergencies requiring trained professionals. Tickets to Hot August Night are available at ticketstothecity.com.