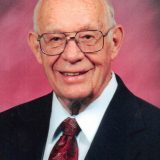 Military graveside honors by the Hopkins County Military Coalition for Erwin C. "Bud" Cramp will be conducted at 2:00 p.m., Tuesday, August 8, 2017 at the Sulphur Springs City Cemetery with Dr. Jimmy Henry officiating.  There will be no formal visitation.  Bud passed away Thursday, August 3, 2017 at the Methodist Willowbrook Hospital in Houston.
Bud was born on December 21, 1927 in Glenwood Springs, CO, the son of Erwin Douglas Cramp and Emma Charlotta Carlson Cramp.  He married Louise Bolton on July 24, 1954 in Sulphur Springs, TX.  She survives.  Bud graduated from Garfield County High School in Glenwood Springs and received a B.S. degree in chemical engineering from the University of Colorado.  He served in the Army Chemical Corps during the Korean War and then held various positions in Dallas and Alaska with Atlantic Richfield Company for 33 years.  He was Startup Coordination Manager during the startup of the oil production facilities at Prudhoe Bay, Alaska in 1976-77 and returned to Dallas as Engineering Service Manager.  He was a Master Mason and member of Glenwood Lodge No. 65 in Glenwood Springs, CO.  He was a member of Phi Kapa Tau.  He served on the board of The Engineers Club of Dallas and was a Director of The Natural Gas Processors Association.   He was a member of the Pathfinder's Class of the First United Methodist Church of Richardson, TX.
In addition to his wife Louise he is survived by daughter, Melanie LeGrotte and husband Craig, and granddaughter, Briana LeGrotte, of Larkspur, CO, son John Cramp of Houston, TX, along with several nieces, nephews, grandnieces and grandnephews.
He was preceded in death by his parents, and a sister, LaRita Watson, and her husband Jim Watson of Arvada, CO.
Memorials may be made in lieu of flowers to the First United Methodist Church, P. O. Box 830877, Richardson, TX, 75083-0877.
Arrangements are under the direction of West Oaks Funeral Home.