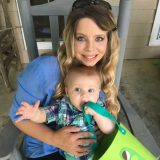 Whitney Brewer McGaughey, loving daughter, sister, and mother of Wylie, TX, died unexpectedly on July 7, 2017 at the age of 33 along with her son Michael Warren McGaughey, 10 months.
They are predeceased by her grandparents, Warren and Opal Brewer of Sulphur Springs and George Jr. and Melva Hughes of Houston.  They are survived by husband Michael McGaughey, father Warren Brewer Jr. of Sulphur Springs and special friend Linda Booker Bennett of Sulphur Springs, mother Marlene Brewer of Conroe, brother Shawn and wife Lauri Brewer of Lubbock, brother Brian and wife Jeannie Brewer of Nepal, sister CJ and husband Ommid Ghaemmaghami of McKinney and sister Sarah and husband John Palmer of Katy.  They are also survived by parents in law Mike and Cherese McGaughey of Longview, sister Meagan and Dave Kirk of Longview and sister Lauren and Marc Ross of Allen.  Further, they are survived by great grandparents Rita and Tom Reber of Palm Harbor, Florida.  They are also survived by countless other relatives.
Whitney was born in Dallas on July 5, 1984.  She graduated from Plano Senior High School and attended Collin County Community College, Sam Houston State University and University of North Texas.   She was employed by Ambit Energy in Plano.
Whitney's son Michael Warren McGaughey was born in Plano on August 31, 2016.  He was the happiest of boys who smiled nonstop and like mother, was famous for his spiky blonde hair.
After family and friends, Whitney was most passionate about animals.  She had a penchant for rescuing strays and would have owned 500 at a time if she could.  She loved nature, especially the water and spent many days from childhood to adulthood at the lake boating.
A private family burial service has been held at the Weaver Cemetery and a Memorial Service will be held at a later date with West Oaks Funeral Home in Sulphur Springs.
In lieu of flowers, please send any donations to Operation Kindness.  Operation Kindness is a no-kill animal shelter in Carrollton, Texas.  www.operationkindness.org. Arrangements are under the direction of West Oaks Funeral Home.