Where can you go to find fresh produce, as well as tasty treats, and practical purchases? That's right, the morning market! Located on Gilmer street between Alliance Bank and City National Bank and available every Saturday from 8:00a.m. to 2:00 p.m. . This hidden gem is one of the best things about Sulphur Springs. Friendly, local vendors look forward to visiting with customers and discussing the history behind their products.  Ksst met with many of the local vendors who were happy to share their stories: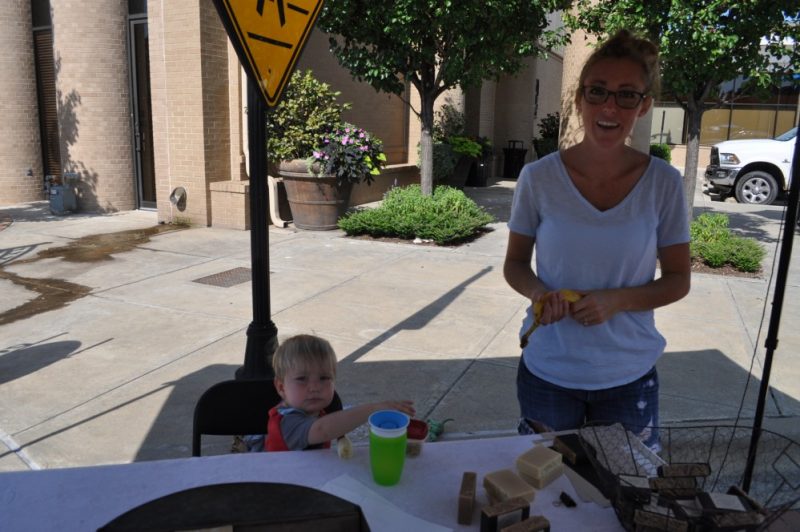 Ramie Phillips sells homemade specialty soaps with some help from her son Judd. Phillip's' soaps can be found at the CO-OP but she enjoys coming to the market  because her favorite thing about the market is "the people!" Phillips began making soaps after her son was born, and she had a lot of downtime.   She read a lot and started watching videos about soap making and eventually became interested in making soaps. She perfected her craft by hand milking her goats and using the "cool process method."   "With milk soaps you have to carefully add lye and try to keep them around 65 degrees while mixing everything, and make sure the milk doesn't scorch!" After she has her base created she "pours it into a 5lb mold" before adding the aromatic scents and essential oils. Total prep time takes about 1 hour and 30 minutes, then it goes into the fridge for 4-5 days before it  is set out to cure for 4-6 weeks. As with everything she does, Phillips puts the same love and care into her soaps as she does with her family.  Her variety of soaps range from unscented oatmeal and honey, cocoa mint, and mint mocha.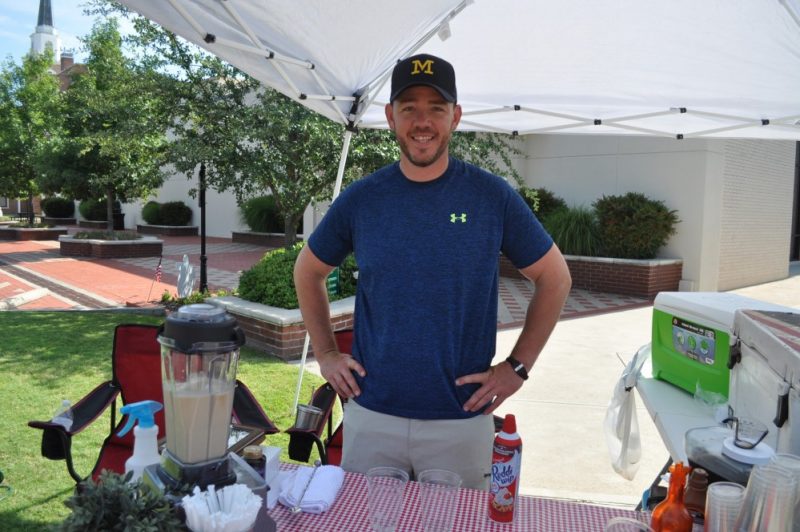 Cool Beans Coffee owned and operated by Gary Simmons and Amanda Treadaway made its debut at the morning market. Usually the pair can be found at the Saturday evening markets.  Cool Beans specializes  in cold pressed specialty coffees, offering a variety of flavors and styles including  sugar free and non-dairy options.  Simmons said he "loves the community involvement." The coffee stand's best seller is the Caramel Frappuccino, and at night they  also sell various flavored lemon-aids as well. "It's just something fun for us to do and make a little money on the side." Simmons explained when asked if Sulphur Springs would possibly have a new coffee shop. Being from Shreveport, Simmons shared the inspiration for their hobby. "There's a coffee shop there  that we love and they inspired us." Simmons secret for their delicious coffee? Cold brewing their coffee. It cools 18-24 hours allowing the coffee to have less acidity and a smoother taste.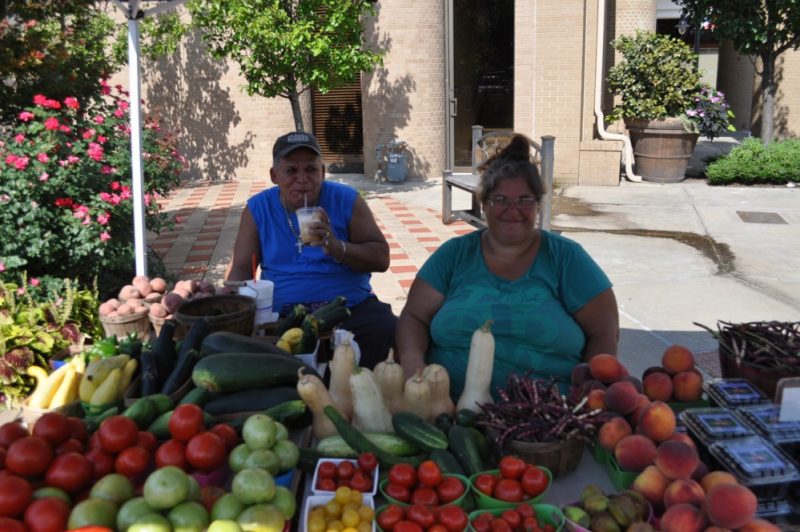 Christy Williams from Williams Produce was out and selling local vegetables from Hopkins county, and fruit from Pittsburgh, TX. She attends the morning market every Saturday. "I really enjoy meeting new people." Williams said She enjoys meeting people and sharing quality produce with them.  Her customers come from all over the area and even some from out of state.  One customer came "all the way from Pennsylvania!"  Her favorite thing to grow is her best seller – tomatoes. Williams shared the best way to prepare her green tomatoes, by "slicing them thin, and putting a little bit of olive oil and spices in a pan before baking them in the oven." or if you slice them thinner and cook them a little longer you can make a tomato chip. "It's almost like potato chips." Williams enjoys helping run the family business with her mother and sister.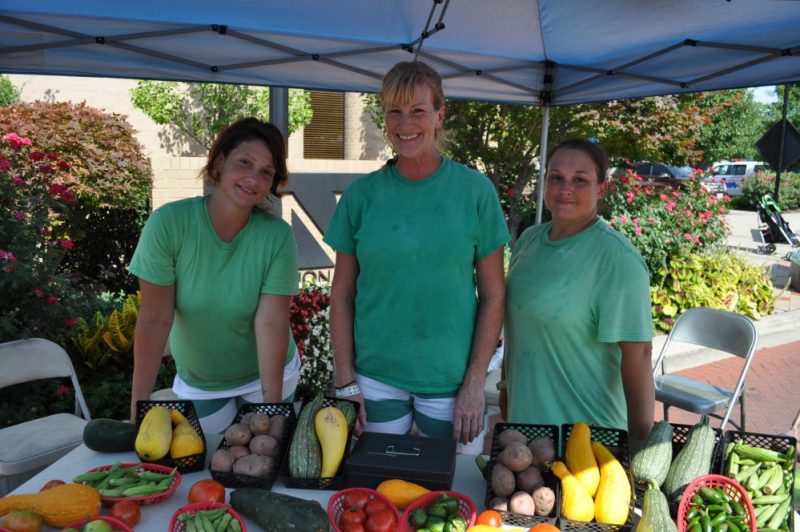 Julie Davis, Sharon Horton, and Marsha McRight were selling produce from the Hopkins County Sherriffs Department  Trustee's farm. They've been working at the morning markets "every Saturday morning for 8 weeks." Horton's favorite part of the market is interaction with the customers and the knowledge she has gained from working on the farm and growing the various vegetables. "We've learned a lot about growing our own vegetables and are bringing in money for the jail."  The Sherriffs Department is working hard to help the trustees become a self sufficient unit by growing and processing everything they need and takiing some of the burden off of the taxpayers.
Davis explained the process behind the farm.  The male  "trustees plow and plant the garden, while the women pick and harvest it."
"We also have an honor system stand over across from the jail, where people can purchase excess vegetables grown from the garden." Horton said.  In addition to the 3 gardens where the trustees grow produce, they also have livestock such as chickens, hogs, and calves.
McRight said that she'd only just begun working in the gardens. "I have a new respect for farmers!" She stated and added how amazing it was to "start with a beautiful plant and it flowers and turns into something for food."
"God has his hand on it." Horton added gratefully, before telling KSST what to expect next.  The trustees "will soon be growing a pumpkin patch for the fall!"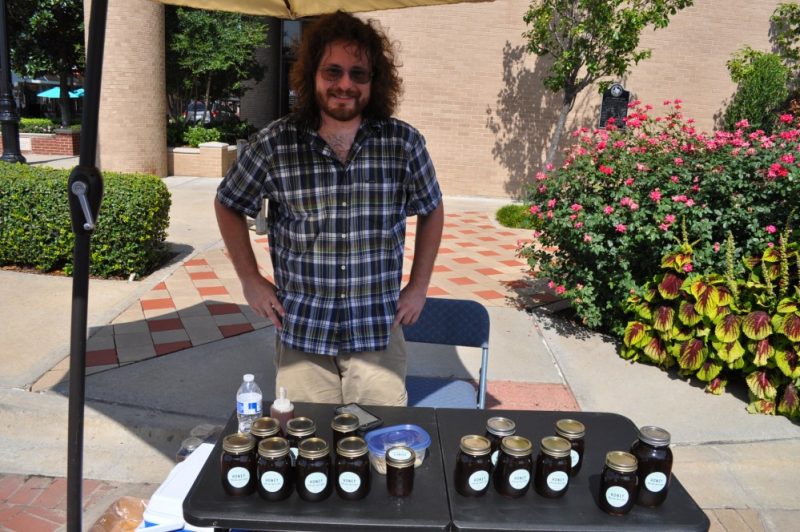 William Ragan was selling his raw and unfiltered honey. He's been selling things at the market for 3-4 years. He described  how he got his start in bee keeping . It was "completely random!"  He was talking to a neighbor when a man walked up needing help with his bee boxes and Ragan jumped into beekeeping learning as he went.  He encouraged others to get involved in Beekeeping and honey making. "You can do it by yourself, but expect a lot of hardships;  it's a lot of fun and you get to interact with an animal that is a lot smarter than you anticipate."  Ragan clearly has learned a lot in his 3 years of bee keeping as he is quick to share techniques, history and interesting  trivia  of his craft. What most people don't know is how "incredibly complex" it is to create the honey. It all depends on " the weather, what plants bloom, night temperatures, there's an amazing ecosystem in Sulphur Springs where bees can propagate, creating unique honey that doesn't taste like its from a grocery store." Ragan said he had 107 bee boxes, that need constant maintenance "just like cattle" he added. Ragan is always willing to give educational tours of the bee boxes or provide honey if you miss him at the market. Contact him at (361)-332-1515.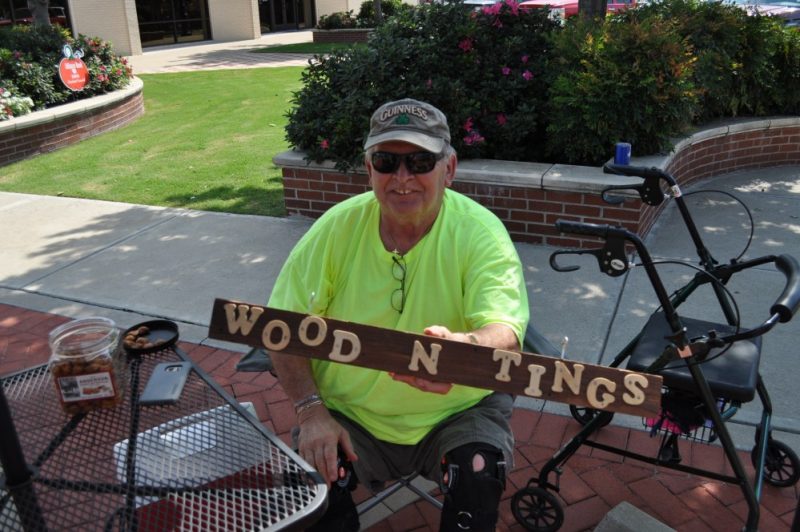 Craig Robbins owner of "Wood N Tings" was out selling some home decor. He said his most popular items were the bird houses he creates out of palette wood and metal license plates or tin. He's been attending the morning markets since May 20th. He specializes in re-purposing items into bird feeders or wine bottle holders, and hopes to eventually break into candle making. Moving here from Ohio in 2009, Robbins says he is inspired by things he sees when he is out and about and  what he finds on "Pintrest".  "The reason I'm here, I'm retired and it gives me something to do and I get to meet new people."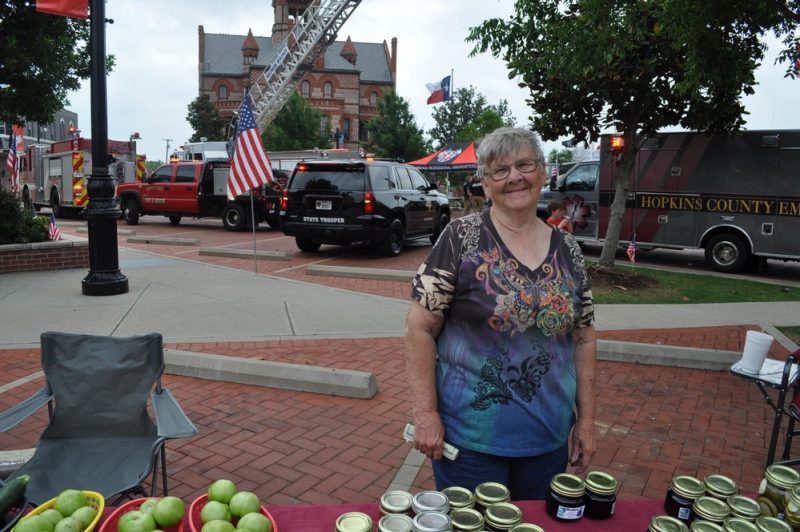 Bobby London, a local favorite at the market, is the longest participants of the market, having participated for 7 years on the square. After learning to cook when she was 6, 70 years later, she "constantly is learning new ways to cook." By running Midway Farms with her son, she says she "went back to her roots." She loves taking orders, and even makes Dr. Pepper Jelly, which she created and perfected without a recipe.  Customers return time and again to find her and her wonderful homemade wares!
The Morning Markets are a great place to purchase fresh vegetables, and items for your home. Grab something from the vendors to snack on for breakfast while you walk around an check out all the amazing booths.