Roger "Tex" Maynard may be retired from the Texas Department of Public Safety as a State Trooper, and retired from Hopkins County as Constable Precinct 1, but he is also a charter member of the Hopkins County Sheriff's Posse. In honor of the Posse's 30th anniversary in 2017, Tex presented a program during the July meeting about the early days of posse work in Hopkins County.
The organization was formed as a volunteer support to the Hopkins County Sheriff's Department. Twenty-two original members were sworn in by Sheriff Mark Bassham in 1987. Originally a mounted unit, applicants were required to own a horse and trailer to be accepted.  Because the Sheriff's Office lacked the manpower and equipment it possesses today, the posse was frequently activated to assist on manhunts and made a good number of apprehensions. Maynard reported that on the first 9 calls for manhunts, the posse apprehended every subject.
Maynard and Posse Training Officer Earl Martin recounted an apprehension made in the Pickton area during the early years of the posse. A gang of thieves from the DFW area had been robbing premises in outlying communities of Hopkins County. After knocking on a door and determining nobody was at home, the thieves would load up the home's possessions in a trailer and make a fast getaway. When law enforcement made contact with the subjects, two men abandoned their vehicle and ran into a wooded area. A half-dozen posse members answered the manhunt call, and mounted on horseback, began to search the wooded area.  A posse member climbed a tree and saw the suspects crossing a fence. TDC search dogs were called for, and a Texas Ranger was searching the area by helicopter. After tracking dogs were released to locate the suspects, another brace of catch dogs were released and soon afterward the suspects were flushed from cover and apprehended.
In another episode, Interstate 30 had to be shut down near the Brashear area when suspects being chased by posse members in a manhunt darted across the highway. Texas Department of Public Safety shut down the Interstate on both sides so that TDC dogs and mounted posse had safe access. These subjects were also apprehended. The stalled drivers probably had an interesting view of that bit of quick posse work.
When the opportunity came up in 1988 to attend a "mounted school", Earl Martin, Dwight Bruhn and several other members along with their horses underwent special mounted police training which also proved helpful during manhunts. Most posse members were already pretty good cowboys and enjoyed horseback games during training sessions, including "Cowboy polo" played with brooms and a volleyball. Soon, the Hopkins County mounted team began to travel to give demonstrations at rodeos and municipal gatherings. In 1989, they competed at the Cotton Bowl against other mounted groups in crowd control formations, skirmish line and rescue races, and in fun contests like wild cow milking and calf branding. It was noted that Ronny Glossup roped 40 calves that day in the contests. The Hopkins County team brought home the second-place trophy.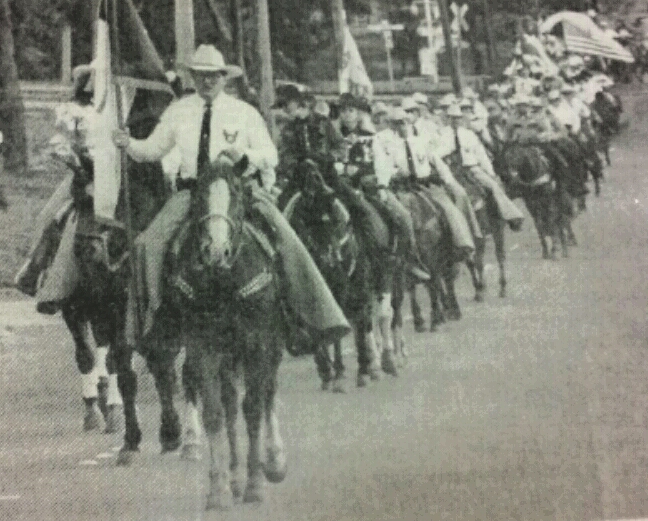 Maynard pointed out that in the early years of the posse, there was no accurate system to identify roads or areas of the county. Also, the four precinct areas had not yet been numbered. An officer's description of where he might be was often sketchy for the dispatcher to identify, and response time to calls in the county was sometimes slow. Landscape features, intersections or fence lines were often the best visible means of identifying a location. Postal route numbers and mailbox numbers were sometimes helpful, but within Sulphur Springs, there were seven postal routes in addition to route numbers in Cumby, Brashear, Como, Pickton, Saltillo, Dike and Sulphur Bluff. It was helpful to law enforcement when Hopkins County Judge Cletis Millsap adopted the use of numbered roads within the four precincts and maps were drawn to reflect the road system. Today's GPS systems further streamline the work of county law enforcement.
Maynard noted that several early posse members went on to law enforcement careers or to become elected officials. Earl Martin and Sam Tatum were the first Environmental officers.  Ronny Glossup became JP Pct 1, and Bill Allen became Constable Pct 1. Many past and current  members serve as transport officers. Former Sheriff Butch Adams utilized the posse frequently over his 20-year career. Current Hopkins County Sheriff Lewis Tatum started out as a member of the Sheriffs posse during the term of Sheriff Bill Deirks. Lisa Hooten is current Captain of the Hopkins County Sheriff's Posse.