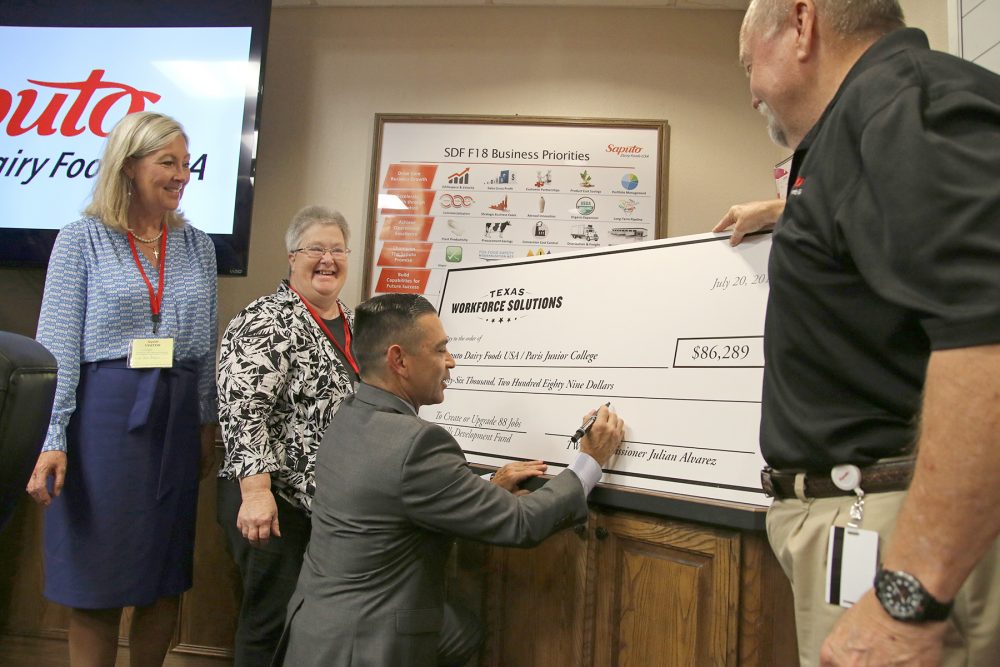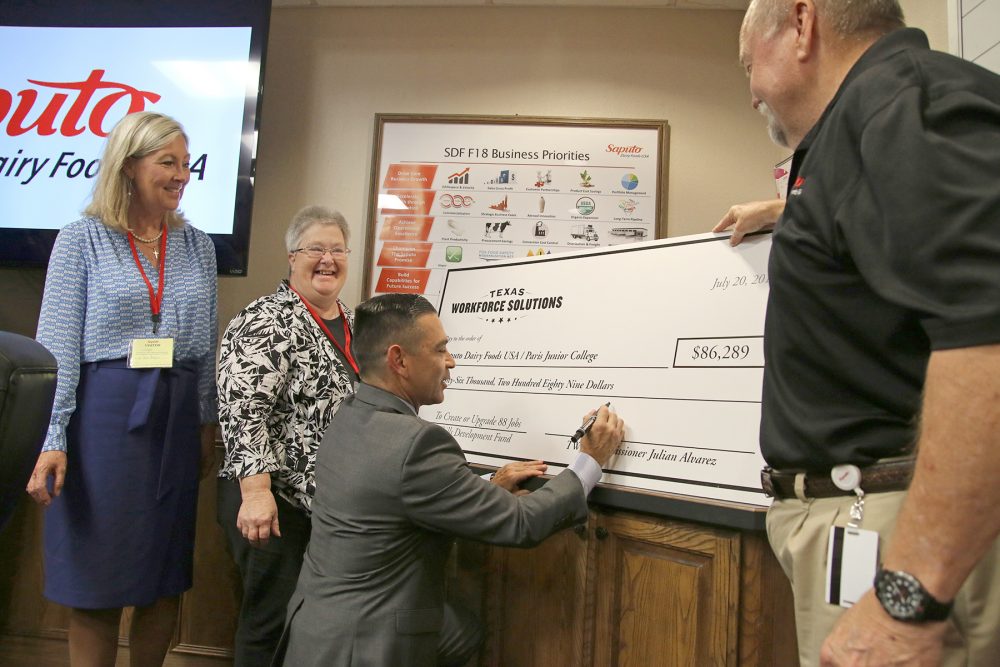 Saputo Dairy Foods USA LLC (Saputo Dairy Foods) has partnered with Paris Junior College to provide job training using an $86,289 Skills Development Fund grant from the Texas Workforce Commission (TWC). The grant will benefit workers in the Northeast Texas area.
This grant will be used to provide customized training to 88 new and incumbent workers for industry-related topics with focused instruction on food processing technology. Trainees will include distribution and warehouse supervisors, maintenance mechanics and testing lab technicians. Upon completion of training, the workers will receive an average wage of $23.89.
TWC Commissioner Representing Labor Julian Alvarez III presented the check to representatives from Saputo Dairy Foods and Paris Junior College at a 1 p.m. ceremony at the company's facility in Sulphur Springs. He represents the interest of Texas workers with respect to TWC services and ensures that their concerns are considered in all Commission actions.
"We have a longstanding relationship with Paris Junior College and the Texas Workforce Commission," said Saputo Human Resources Director Scott Brown. "This is not the first time we've received a grant, and our relationship has truly been one that is very close. We're very appreciative. Every time we've reached out and asked for help, they've come through.
Three things are very important to us: the safety of our employees, the quality of our product, and our efficiency. Today we have training going on in four locations in this facility. Every week, every month, there's something going on pertaining to training our employees. With that training and that efficiency and quality, we know that Saputo is going to support the growth of this operation, this plant, in Sulphur Springs."
"I want to start by saying a huge 'thank you' to Scott Brown," said PJC President Dr. Pamela Anglin. "We've worked together a long time and our partnership with Saputo is something we really appreciate and are thankful to all he does for keeping the plant going and for his hiring good people.
Dr. Anglin also recognized Bart Spivey and Saundra Shingleur with Northeast Texas Workforce Solutions and commended their work.
Prior to signing the check, Alvarez praised the area's progress.
"Something I find very unique about this area is how everyone gets along," Alvarez said. "Industry has been engaged with our workforce boards and our ISDs. We want our folks to be educated here but we want them to stay here as well.  Your unemployment rate is excellent and that's a testimony to you working together."
Alvarez also addressed the rapid change of technology.
"You are preparing for that change," Alvarez said. "What's happening here in this area is noticed. And whatever you're doing to bring in business, continue doing it. As the governor says, 'Texas is open for business.' Are we preparing our future workforce for that need? I think we are. This community used to be a farming and ranching community. We're changing. Industry is looking for credentials that they can identify. We need to do a better job of promoting technical fields. There's nothing wrong with having a four-year degree. We all need a lawyer; we all need a doctor. But how many of us would be in this room if the air conditioning wasn't working, or if the plumbing was out. We need those folks; we need trades.
"This grant has an estimated regional impact of $1.2 million. Because of what your doing and your management team here, you continue to make Texas strong. We are in the tenth largest economy in the world. That's awesome, and you're part of that."
Brown followed up by explaining that once a Saputo employee has been at work six months, they qualify for $5,250 a year that pays for college.
Ninety-nine percent of the employees in this plant were hired from Sulphur Springs," Brown said, "including the plant manager. We have a lot more success when we hire from Sulphur Springs or the local northeast Texas area, than we do from other areas. There is opportunity within this organization. When I came here 14 years ago, there were 155 people; now there are almost 400. This training is only the beginning. We want to be the employer of choice."