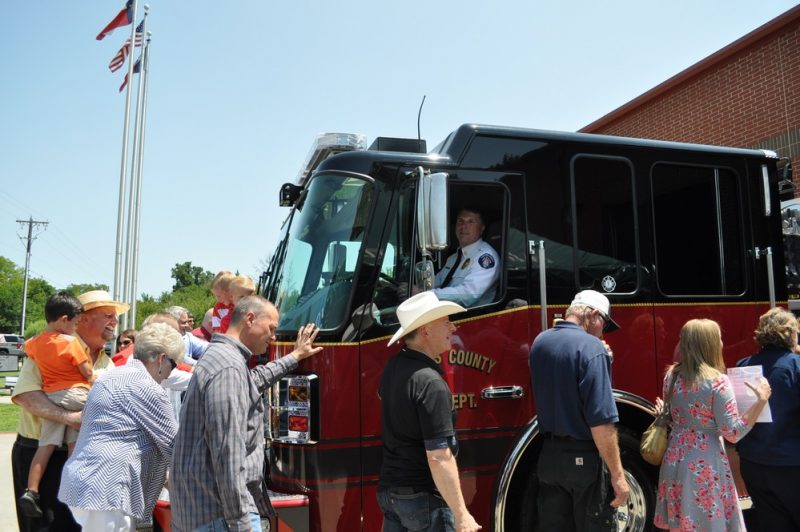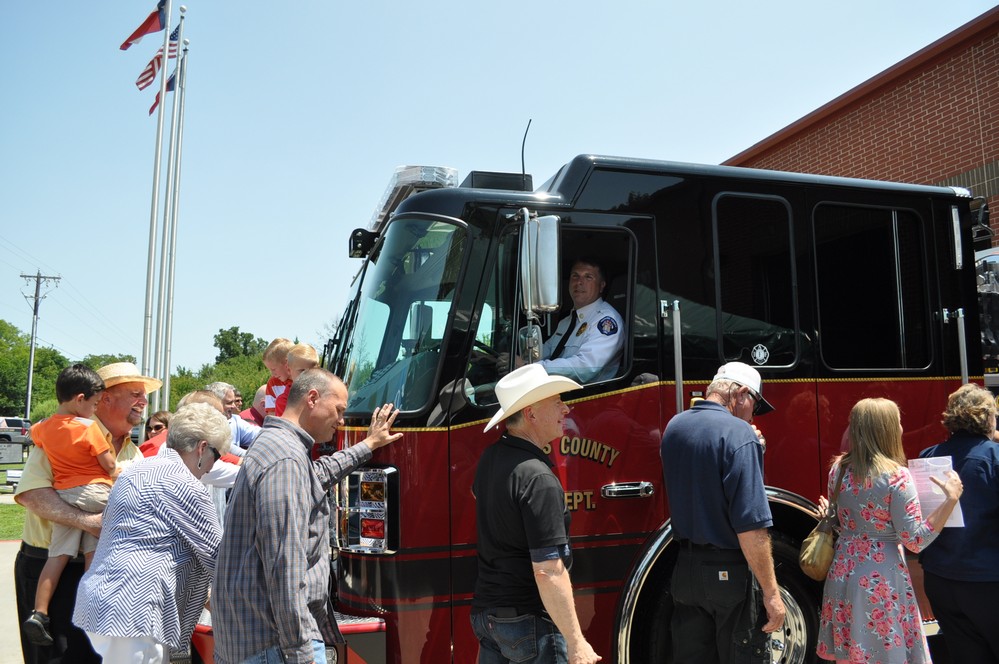 On Friday, July 21st, the Hopkins County Fire department held a "Push-In" Ceremony. There were over 50 people at the event including; Emily Glass, Rusty Posey,  Kelley Fletcher, Robert Newsom, and many others, who helped Chief Endsley reverse and "push" the truck into the garage. Chief Endsley turned on the new truck's lights and sirens, once the truck was proudly in the garage.

The new 2017 Ferrara Firetruck was custom built for Hopkins County Fire Department and cost $450,000. But surprisingly it's on the cheaper end for new firetrucks, as most firetrucks range from $300,000-$700,000 depending on the added features. For more details about the new firetruck click here.
Children climbed into the drivers seat and posed for pictures, while other people stood in front of the truck to commemorate this event. The firemen were all too eager to begin loading up the new truck with equipment, and swapping things from the old truck to the new one almost immediately after the group photos.
Here's a little bit of history about the Hopkins County Fire Department Station 20:
"In 1999 Hopkins County opened Station 20 (Central) located in the City of Sulphur Springs which serves as the County Seat manning one fire engine that responded everywhere in the county to fire calls with the local volunteer departments. The paid county station would not and has not replaced the volunteer fire departments, but rather blossomed into a complex combination of county fire departments to serve and protect the citizens of Hopkins County.
Since its start in 1999 Station 20 has grown to a full service 24 hours a day department that staffs 2 Engines Monday thru Friday during the day and 1 Engine at night and on weekends. The County employs 7 full time staff and a large number of part-time employees to cover Station 20.
The county also contracts with 12 Volunteer Fire Departments (VFD) that are paid under contract a fee to all work together to assist the paid County Fire Department with providing fire protection to the residence of Hopkins County. By contracting with the local VFD's this allows for each department to maintain their sense of community individuality that for so many decades made each department so unique. But still allows for the structured continuity to work together for the common good of the citizens of Hopkins County.
Together the 12 VFD's under contract with the Hopkins County Fire Department along with the paid County Central fire station make up the Hopkins County Fire Departments."