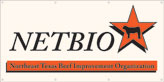 If you enjoy a sizzlin' steak, then you are part of the beef industry in Texas. NETBIO stands for Northeast Texas Beef Improvement Organization, and through it's programs and sponsorships, offers numerous ways for beef producers to improve their operations and their profits. According to Missy McClure, Entertainment Committee chair, beef producer and local realtor, one of these programs actually brings beef lovers together with beef producers for a delicious, competitive event called the "Cattleman's Classic Ribeye Roundup" Steak Cook-off.  The third annual event is set for October 6, 2017, so plan to be downtown on Celebration Plaza for a steak dinner at 6pm followed by a free concert at 8pm by Stoney LaRue. In fact, the public is invited all afternoon to stroll around and meet the Ribeye Roundup steak chefs and their teams, many coming from out of state to compete. There will be sites for 37 different cooking teams to turn out their best efforts to win the Championship. Following that afternoon's judging, steak chefs will then get ready to custom cook your steak when you take your seat for dinner at 6pm.  Tickets are $25 and includes ribeye, baked potato, salad and dessert. You can purchase tickets at Texas Heritage National Bank and at Brookshire's of Sulphur Springs. VIP tables are also available. Also during the day, local beef producers may attend an educational meeting with guest speaker inside the Hopkins County Courthouse.
If you are interested in entering a steak cooking team, you can find view rules and entry form on Facebook.com/ribeyeroundup. With questions about the Cattleman's Classic, steak cookoff and concert, contact any NETBIO member or Dwyatt Bell at Texas Heritage National Bank, 903-438-2000.
Corporate sponsors for the event include Brookshire's, Texas HNB, Jay Hodge Chevrolet and Sulphur Springs Livestock Commission.