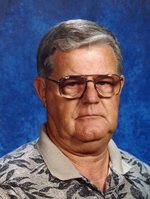 Lonnie Lee Niblett 73, of Pickton, TX passed away on Wednesday, July 12, 2017 in Longview, TX. He was born on January 9, 1944 to the late Carlton and Madgel Niblett.
Lonnie was a teacher and a coach for over 30 years at Como-Pickton ISD. He also served in The United States Air Force for 4 years.
Lonnie is preceded in death by brother, Richey Niblett; sister, Carlene Morehead; grandson, Kiker Plaza and brother-in-law, Randall Morehead
He is survived by his wife, Margaret Niblett of Pickton, TX; son, Chance Niblett of Denton, TX; step-son, James Mathis and wife Melanie of Karthaus, PA; daughter, Candace Plaza and husband Paco of Denton, TX; two step-daughters, Janell Bickham and husband Kirk of Hughes Springs, TX, Jennifer Allen and husband Joseph of Hughes Springs, TX; two brothers, Wayne Niblett and wife Clara Ruth of Paradise, TX, Don Niblett and wife Earlene of Decater, TX; three sisters, Bobbie Badger and husband Ed of Decater, TX, Ann Jones and husband Roy of Paradise, TX, Kathy Horton and husband Homer of Paradise, TX; fourteen grandchildren, Jarett, Skatter, Clayton, Marc, Isabella, Jakob, Maggie, Chelsey, Michael, Faith, Ashlea, Adam, Jeff, Autumn; two great grandchildren, Julian, Deklynd.
Visitation will be held on Friday, July 14, 2017 at Beaty Funeral Home in Winnsboro, TX from 6 to 8 pm. Graveside service will be on Saturday, July 15, 2017 at Paradise Cemetery in Paradise, TX at 1 pm.
In lieu of flowers donations can be made to Lonnie Niblett scholarship at Como-Pickton ISD or Kikerexpress.com a fund that provides for sick children in honor of Mr. Niblett's grandson.