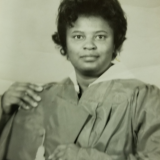 Funeral services for Lestene Sewell, 82, of Sulphur Springs, will be held at 1:00 p.m., Saturday, July 29, 2017 at East Caney Baptist Church with Rev. M. Lavelle Hendricks and Rev. Troy L. Young officiating. Interment will follow at East Caney Cemetery with her grandchildren and nephews serving as pallbearers. There will be no formal visitation. Lestene passed away on Monday, July 24, 2017 at Christus Mother Frances Hospital in Sulphur Springs.
She was born on October 31, 1934 in Hopkins County, the daughter of Lester Bill and Mattie Mae Washington Thompson. She was a house wife all her life and of the Baptist Faith.
She is survived by sisters, Callie Young, JoAnn Blaylock, Mary Alice Vaughn all of Sulphur Springs, grandchildren, Katrenya Dial Ford, Tedrick Dial, Troy Dial, great-grandchildren, Monica Dial, Diamond Dial, Kayla Dial, Marcus Dial, Jovon Strahn, McKayla Strahn, Treyvon Dial, Alexandr Ford, Hasiah Ford, Markyia Gross, and Marissa Gross, and a host of relatives and friends.
She was preceded in death by her three sons, Gregory Dial, Tony Dial, and Bobby Dial.
Arrangements are under the direction of West Oaks Funeral Home.