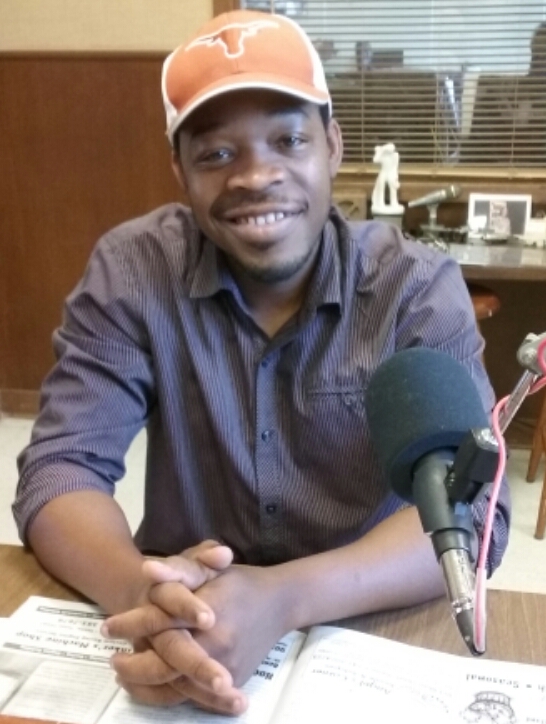 Meet Jacoby Smith. This Sulphur Springs man leads a local country music band called "Moonlight Twang" which formed in 2013 but whose road was a rough and winding one until last year. Now, Moonlight Twang is once again entertaining audiences from Sulphur Springs to the Metroplex and into Oklahoma in addition to a string of private engagements. To promote their Jamboree appearance on Saturday July 15 at 7pm, Jacoby guested on the KSST Good Morning Show and shared his story.
Being a young black country music fan, Jacoby wasn't sure where he fit in at first. He admits that back in high school he had a pretty good sound system in his car and liked to listen to loud music of many kinds. But at about age 21, his tastes began to switch to country music and he'd find himself turning the volume down in his home neighborhood because he didn't know how he might be perceived! In time, he became comfortable with who he is and that included being a country music singer.
About four years ago, he wanted to form his own band. So with high school friends Brandon and Brian Reed and their dad Mark Reed, Jacoby began to work on a catalog of standard country tunes for local gigs.  At this time, Jacoby's young son Braden, who had been diagnosed with leukemia at age 2, began to require aggressive chemo treatments as an adolescent. About the same time, Brian's son Micah was diagnosed with cancer and embarked on a series of aggressive treatments involving long hospital stays. Jacoby's father-in-law, local entertainer Larry Massey, passed away in 2015 following a lengthy illness and within a few months, his mother-in-law also passed away. Later that same year, Micah Reed lost his battle with childhood cancer at age 12, leaving the entire circle of family and friends devastated. Jacoby admits it was his faith in God, planted by his mom and grandmother who always took him to church, along with a respect for the gift of life that brought him through until once again, he felt the desire to sing. He'd always sensed that the traditional songs of Hank Williams, Merle Haggard and others spoke to the sorrows and joys of common people, and it was this music that kept him grounded.
By late 2016, he and the Reed family had reassembled the band with Brandon on lead guitar and bookings, Brian on bass, Mark on steel guitar and Jonathan McGraw as drummer with Eric Rhodes as alternate drummer. In 2017, Moonlight Twang is now turning out a tight, totally country sound. In Jacoby's life, with Braden in remission and active, healthy 5- and 8-year-olds, he and his wife Victoria are keeping very busy. His career as an all-around commercial artist allows him to create murals and signs and perform interior design and wood working. But it's singing country music with his band "Moonlight Twang" that's his favorite creative outlet! Catch their concert at the Reilly Springs Jamboree on Saturday July 15 at 7 pm.