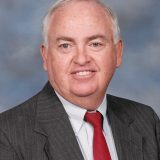 Funeral Service for Bro. Horace Wayne Scott, age 73, of Sulphur Springs, will be held at 10:00 A.M. on Thursday, August 3, 2017 at Peerless Baptist Church with Bro. Doyle Hayes officiating, Bro. Joe Perkins and Bro. David Burns assisting.  Interment with military honors will follow at Peerless Cemetery with Bryan Scott, Dylan Scott, Colton Wheeler, Terry Wheeler, David James and Donald Hopper serving as pallbearers. J.W. Murray, Jason Howard, Gene Barnett, Roger Maynard and J.W. Crane serving as honorary pallbearers.  Visitation will be held on Wednesday, August 2, 2017 from 6 to 8 pm at Murray-Orwosky Funeral Chapel.   Bro. Scott passed away Monday, July 31, 2017 at his residence.
Horace Wayne Scott was born on November 16, 1943 in Cooper, Texas, the son of Avon and Opal Marie Bain Scott.  Wayne married Diana Neel Jennings in Peerless, Texas on May 28, 1964.  Throughout his career, Wayne served in the Navy, was a Hopkins County Deputy Sheriff, Sulphur Springs Police Officer, DPS Trooper, Hopkins County Judge, law enforcement officer for Texas Parks and Wildlife, Master Peace Officer, Sunday School Teacher and minister.  He graduated from Criswell Bible College.  Wayne was a member and deacon of Posey Baptist Church and Treasurer of Peerless Cemetery.
He is survived by his wife, Diana; son, Bryan Scott and wife Pam; daughter, Carrol Wheeler and husband Terry; grandchildren, Brittany and Jason Howard, Dylan Scott, Colton Wheeler, Sarah Scott, Faith Wheeler; great grandchild, Lexi Marie Howard; brother, Billy Scott and sister, Barbara Hopper; several nieces and nephews.
Wayne was preceded in death by his parents, Avon and Opal Scott.
Memorials can be made to Peerless Cemetery Association.