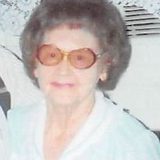 Emma Ruth Mellore, age 98, of Sulphur Springs passed away on Monday, July 18, 2017 at Rock Creek Health and Rehab.  She was born on February 24, 1919 in Oklahoma, the daughter of Bert S. and Emily Asbury Onley. She was a homemaker all her life. She was married to Morris Orville Mellore for 56 years.
He preceded her in death.
She is survived by daughter, Sharon Buti of Sulphur Springs, three sisters, twelve grandchildren, and several great-grandchildren.
In addition to her husband, she was also preceded in death by, sons, Robert Lambert, Johnny LeRoy Lambert, and daughter, Mary Carolea McGee.
Interment will be held at Chapel of the Chimes in Hayward, California. Arrangements are under the direction of West Oaks Funeral Home.