By Savannah Owens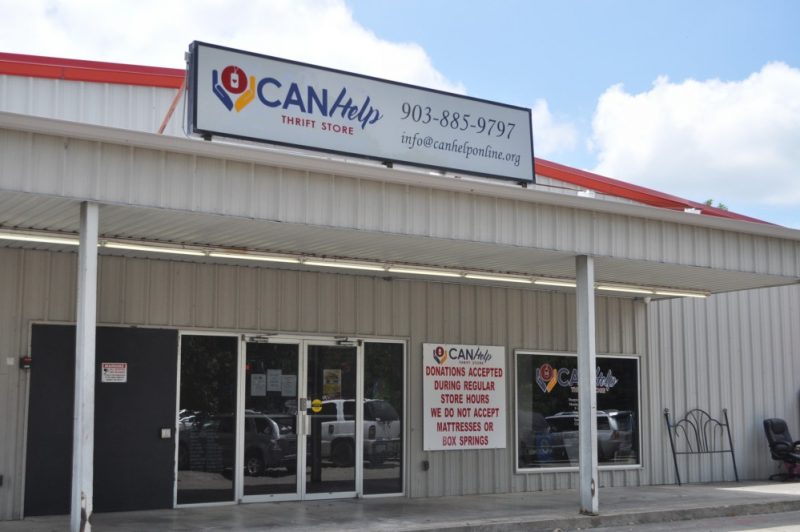 CANHelp's Shanna Martin sat down with KSST to talk about how school supplies registration is going and what people can expect from their Back to School Fair.
One week into registration, CANHelp has about 50 kids registered for school supplies, but the organization expects somewhere between 300 and 1,000 kids to register for school supplies by August 4th. They have received $3,000 in donations, and that money will go towards purchasing school supplies for the backpacks. Anyone can donate money, backpacks or school supplies, but the greatest need is for backpacks.
There are 20 vendors signed up and they are expecting to get five to ten more. Though sponsor information was due on the 7th, CANHelp has extended the deadline to July 16th.
Current Sponsors are:
Alliance Bank
TXU Energy Aid
Sulta Manufacturing Co.
Community Chest
Wesley United Methodist Church
St James Catholic Church
Abacus Home Health
Guaranty Bank & Trust
Johnson Law Firm
Legacy Ag Credit
If you, or someone you know, would like to donate, or become a sponsor, please contact CANHelp or email [email protected] Donations may be dropped off at CANHelp at 613 Gilmer St. Sulphur Springs, TX, the Way Radio station, or the Sulphur Springs Public Library.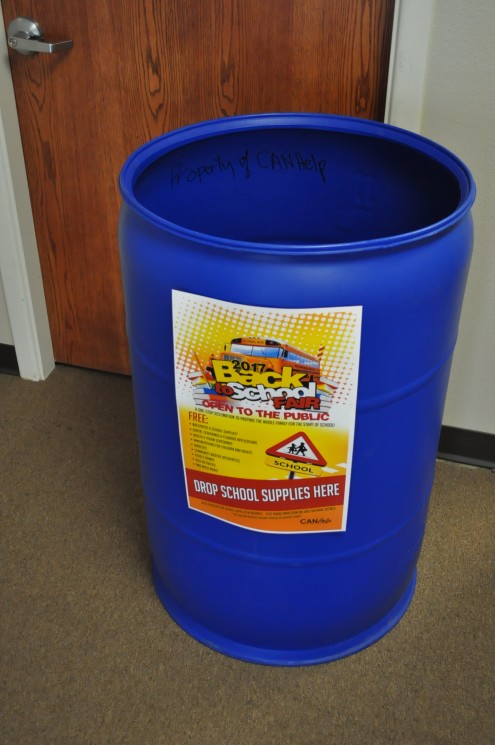 Exhibitors signed up for the event include:
· Department of State Health Services – The dentist from Tyler will be there doing dental screenings and fluoride applications, the local nurse will be there providing immunizations
· Hopkins County Agri-Life – 4H Booth, booth providing nutritional info.
· Abacus Home Health – Providing Health Screenings
· SSPD – providing Kid Print ID's
· SS Lions Club – Vision Screenings
· Sulphur Springs Public Library
· SAFE-T Domestic Violence Center
· Children's Hope
· TX Dept. of Transportation
· Children's Hope
· Hopkins County Community Chest
· Wesley united Methodist Church
· Journey Baptist Church
· Special Health Resources
· CANHelp will have a booth
"Also, we still have room for more booths. If there any groups for kids extracurricular activities such as boy scouts, girl scouts, fall sports, etc. that would like to have a booth, please contact me! We would love to have them!" Martin stated excitedly.
This year's Back to school fair is different from CANHelp's  previous "Pack the Bus" event put on last year, because the fair is open to anyone and everyone and is completely FREE. It opens at 3:00 pm August 4th at the Hopkins County Civic Center with things to do both inside and outside the building.
It is a one stop shop where families can get hair-cuts, vision screenings, health screenings, immunizations, food and drinks, as well as other goods and services at the many different booths. Booths will all be interactive and there will be games and bounce houses. "We are going to have continuing education resources for the adults as well. We plan to have at least 1 technical college, and are working on getting the surrounding colleges to attend. The fair will truly be for   everyone…kids and adults!"
The Police Department will be printing Kidprint ID's, and the DPS will even have their roll over simulator. Martin is hoping the event will have 500-1,000 attendees. While there is no cost or registration for the event and everyone is encouraged to attend, you must register if you'd like school supplies. To register for school supplies stop by the CANHelp store to receive an application. Applicants only need to bring in the student's social security cards, parental ID, and ONE of the following: proof of Medicaid, proof of income, or proof that the child is on the free or reduced lunch program at school. "We really want people to try and sign up by August 1st so we will have time to pack all of the back packs."
Check the CANHelp's Facebook page for even more updates on the event. It's definitely not too late to sign up to be a sponsor or to have your own booth. They're also looking for volunteers to help "stuff" backpacks and help out with the event. Individuals and groups or businesses are encouraged to participate!
Here is the list of needed school supplies.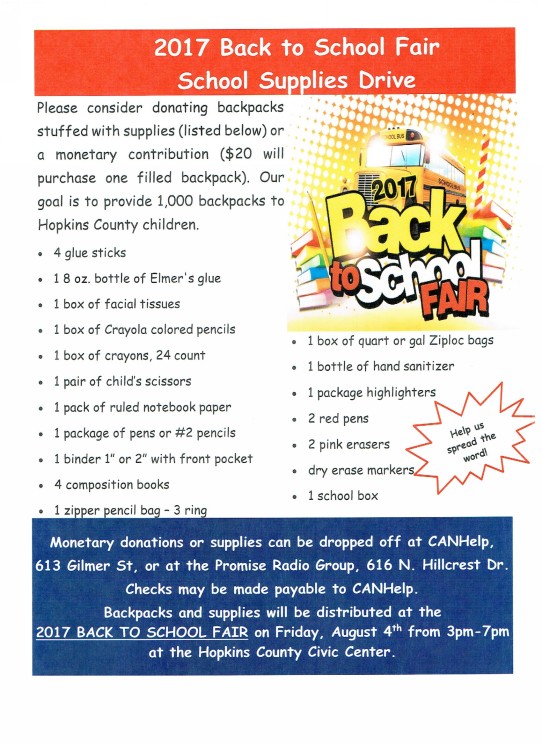 "Within next couple weeks, Wal-Mart will also be packing backpacks with supplies worth $20 for people to purchase to donate to us for the fair. If anyone would like to volunteer or donate supplies or give a monetary donation, please give us a call at 903-885-9797 ext. 3 or email [email protected]".