By Jan Vaughn
The Tira Homecoming is coming up on Sunday, July 2nd. Make plans to come enjoy the program at 11:00 in the Tira Methodist Church, followed by a covered dish lunch at the picnic tables on the grounds.
Brad, Tanya, Matthew, Tonja, and Will joined William and Joyce Dodd for Fathers Day lunch on Sunday. Rob visited later in the day and Michael called from Richardson to wish William a Happy Father's Day.
Tiffany, Jaidyn, and I went to Sour Lake on Saturday and picked up Dixie to come spend a week with Landon, Laiken, and the boys. Chip attended the skeet shoot at Chuck and Karen Olmsted's that day. Chip, Tiffany, and I attended the Dairy Festival Pageant in Sulphur Springs that night. Tiffany had lunch with us for Father's Day, and then she and I went to DFW airport to pick up Morgan, upon his return from Air Force ROTC training in Alabama and Mississippi. When we returned, Malcolm and Jaidyn joined us for a snack supper and cake, in honor of Morgan's birthday, which was on June 2nd, while he was gone.
Minnie Hillis Reagor shared the following report on the Hillis Family Reunion.
The 2017 Hillis Family Reunion was held at Tira Community Center June 17th and 18th. Eighty-three Hillis connections came from near and far this year… Texas, Arkansas, New Mexico, California, Oregon, and Florida.
Alvin E. Hillis cooked up a big batch of Chicken Stew in his big iron pot over his A-Frame. It made for a delicious Saturday evening supper!
There were several ticket drawings, several of which Theresa Marlow McGregor made 6 Crochet Scarves and 2 Baby Blankets, and donated. Those who won the drawings were: Laigen Hillis [Home/Our Family Plaque], Savannah Chalk [Family Forever Plaque], Sampson Stembridge [WiFi Coozie], Neva Yarbrough [Family Mug], Sarah Hillis [Family Mug], Judy Hillis [Family Mug], Iva Haren [Yellow Baby Blanket], Hunter [Blue Baby Blanket], Dana Wilson-Martinez [Blue Scarf], Natalie Hillis [Purple Scarf], Dorothy Shields [Purple Scarf], Theresa McGregor [Green Scarf], Terri Hillis [Red/White/Blue Scarf], and Laigen Hillis [Maroon Scarf].
Joe Self also came by and gave rides in his mule drawn wagon to those who were interested. Many thanks to Joe for making this a reunion many of the younger ones (and older ones, too!) will remember for a long time!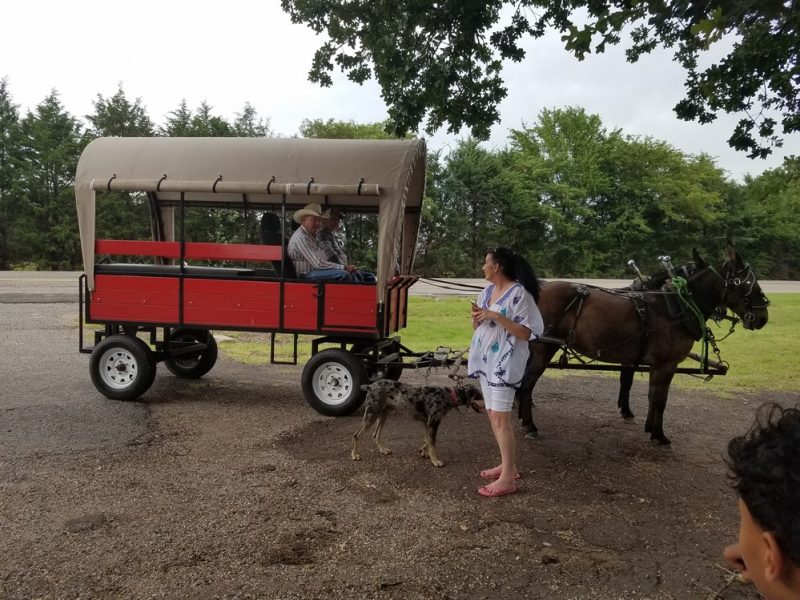 Those in attendance were: Minnie P. Hillis Reagor, Ryan W. Reagor, and Dustin W. Halbert of Vidor, Texas; Hayley R. Halbert and Sampson J. Stembridge of Bridge City, Texas; Johney W. Hillis, Dorthy Goodson Hillis, Jackey L. Ferrell, Vicki L. Hillis Ferrell, Kortni Ferrell, and Kaden Ferrell of Tira, Texas; Winona R. Hillis Yates, Albert Bass, Hillis Bass, David Bass, Khristy M. Hillis Santjer, Alvin E. Hillis, Sarah Daniels Hillis, Sierra C. Hillis, Dakota W. Hillis, Skylin B. Stonaker, Crystal Crocker Romero, Garry Hutchison, Zoe Hutchison, and Joe Ayden of Sulphur Springs, Texas; Troy A. Hillis of Trinidad, Texas; Clarence "Chip" & Paulette Hillis of Harrison, Arkansas; Jose Martinez, Cheryl A. Wilson, Dana Wilson-Martinez, Lana Wilson-Martinez, Hunter and Lee, of Greenville, Texas; David E. Marlow, Sherry Keener Marlow of Naples, Texas; Tommy E. Hillis, Terri Rowe Hillis, and Natalie C. Hillis of Ingleside, Texas; Blaine R. Gibson, Elizabeth N. Hillis Gibson, Klaire A. Gibson, and Cade L. Gibson of Magnolia, Texas; Joe R. Hillis Sr. and Velma Jane Vincent of Cresswell, Oregon; Cynthia G. Hopson Sadler of Gladewater, Texas; Savannah L. Chalk and Rickie L. Chalk III of Big Sandy, Texas; Dorothy S. Hillis Shields of Lone Oak, Texas; Josh Lifto, Fred Sharrow, Lennie F. Hillis Sharrow of Rowlett, Texas; Justin McGregor, Theresa M. Marlow McGregor of Cookville, Texas; Calvin W. Hillis, Sherril Renee Gooding Hillis, Daniel W. Hillis, Larissa Amber Moore Hillis, Laigen M. Hillis, Grayson W. Hillis of Aransas Pass, Texas; Diane C. Baker Canyonville, Oregon; Susan E. Baker of Concord, California;  Bennie E. Hillis, Diana Davis Hillis of Scurry, Texas; Freddie L. Yarbrough, Neva J. Hillis Yarbrough of Cedar Hill, Texas; Patricia A. Hillis Harris of Clovis, New Mexico; Iva N. Hillis Haren of Cooper, Texas; Jelle Jongsma, Casey L. Beall Jongsma, Emma L. Jongsma, Ryan Jongsma of Winnsboro, Texas; Dial D. Atkins, Ruby M. Hillis Atkins of Lake Kiowa, Texas; Bobby W. Marlow, Jessica Miranda Marlow, Hannah R. Marlow, Savannah L. Marlow of Winfield, Texas; Cullum O. Hillis, Judy James Hillis, Kinnadiee L.C. Thatcher, Richard Clayton Thatcher, Ty Thatcher of Klondike, Texas. If others are not mentioned, they did not sign the register.
Minnie adds, "Mark your calendars for the 2018 reunion on June 16th and 17th. Hope to see everyone there!" 
I always need and appreciate input from my friends to help keep me informed of news in our community. If you have any news pertaining to Tira residents, past or present, please contact me, Jan Vaughn, at 903-945-2190 or 903-438-6688 or [email protected].