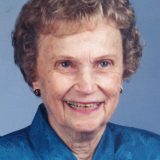 Sara Jean Craddock, age 94 of Longview, passed away on Friday, June 9th, 2017 at her home. She was born on August 4th, 1922 in Winnsboro to the late Ocie Milner and Annie Milner. She was a homemaker and a member of St. Matthew's United Methodist Church. Jean loved spending much of her time volunteering for her many favorite causes.
Mrs. Craddock was preceded in death by parents, husband and nine brothers and sisters,
She is survived by, son, Michael Craddock of Switzerland; daughter, Lynn Bush and husband Billy of Carthage; three grandchildren, Brad Gillis and his wife Susan, Blaine Gillis and Cherri Gillis and two great grandchildren, Braiden and Chandler Gillis.
Visitation will be held on Monday, June 12th, 2017 from 6:00 pm to 8:00 pm at Beaty Funeral Home-Winnsboro 816 W. Broadway Winnsboro, TX 75494. Funeral Services will be held on Tuesday, June 13th, 2017 at Lee Cemetery in Winnsboro at 10:00 am, Chaplain Rick Webb conducting.
In lieu of flowers donations may be made to Six Mile Cemetery, PO box 603, Judson, Texas 75660.