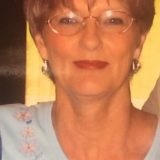 Graveside services for Mary Frances Hicks, age 76, of Dike will be conducted at 11:30 a.m., Friday, June 9, 2017 at Connor Cemetery with Rev. Kenneth Rhoades officiating.  There will be no formal visitation.  Mrs. Hicks passed away Tuesday, June 6, 2017 at her residence.
She was born on May 6, 1941 in Marshall, Arkansas, the daughter of Walter Herman Gire and Flora Ethel Black Gire.  She married Robert Lee Hicks on March 1, 1971 in Little Rock, Arkansas.  He survives.  Mrs. Hicks was a homemaker and of the Baptist faith.
In addition to her husband she is survived by her children, Robert Clayton Hicks and wife Brenda of Spotsylvania, Virginia, Teressa Marie Milner and husband David Russell Milner of Frisco, Texas, grandchildren, Lindsey, Allison and Colin, one nephew, Richard Herman Gire, Jr.
She was preceded in death by her parents and brother, Richard Herman Gire, Sr.
Arrangements are under the direction of West Oaks Funeral Home.