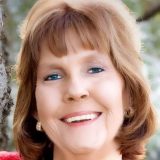 Memorial services for Karla Sherrod Lindamood, age 59, of Cumby will be conducted at 4 p.m., Friday, June 23, 2017 at Donelton Baptist Church with Rev. Mark Slaughter officiating.  There will be no formal visitation.  Karla passed away Monday, June 19, 2017 at Baylor Health Care in Dallas.
Karla was born on August 29, 1957 in Odessa, TX, the daughter of Richard Sherrod and Neva Pool Sherrod.  She married Bobby Lindamood on October 29, 2008.  He survives.  Karla was a LVN and worked in the medical field for 42 years.
In addition to her husband she is survived by her children, Charles Herford and wife Holly of Big Springs, David Kirkland of Garland, Bobby Lindamood of Tyler, Jeff Lindamood of Watauga, Amy Stevenson and husband Johnathan of Sulphur Springs, Carissa Fite of Birthright, Jennifer Price of Ft. Worth, Stefanie Cuerro of Chandler and Stacy Applegate of Ft. Worth, numerous grandchildren and one great-grandchild.
She was preceded in death by her parents.
Arrangements are under the direction of West Oaks funeral Home.