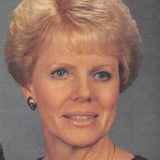 Joan Lee Moyle, 74, of Sulphur Springs passed away on Saturday, June 10, 2017 at Christus Mother Frances Hospital.
She was born in Detroit, MI on March 28, 1943, the daughter of Herbert Alvin Ford and Gladys Livesey West. She married Kenneth Moyle on December 16, 1998 in Visalia, CA, he survives. Joan was a homemaker. In addition to her husband she is survived by son Barry Rae of CA and son Kenneth Moyle and wife Lavania of Sulphur Springs, 9 grandchildren and many great-grandchildren.
She was preceded in death by her parents, son, Kenneth Wayne Rae, and one brother.
Services will be held at a later date.
Arrangements are under the direction of West Oaks Funeral Home.