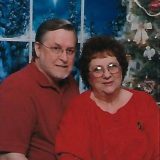 Mr. James E. McVay, Sr., age 80 of Winnsboro, passed away on Wednesday, June 28th, 2017 in Tyler. He was born on April 18th, 1937 in Dallas to the late Walter McVay and Gladys McVay. He was a member of Harmony Assembly of God and was preceded in death by parents, wife, Mary Lou McVay, brothers, Troy McVay, Roy McVay and Doyle McVay and sister, Gloria Gilbert.
He is survived by, sons, James E. McVay, Jr. and his wife, Pamella of Gilmer, Brent Wade and his wife, Amy of Melissa; daughter, Valinda Marquis and her husband, Tony of Mead, Oklahoma; sisters, Walterine Faulk of Rockwall, Glenda Sissel of Holly Lake Ranch and Brenda Gates of Rockwall and seven grandchildren.
Visitation will be held on Saturday, July 1st, 2017 from 11:00 am to 12:00 pm at Beaty Funeral Home 816 W. Broadway Winnsboro, TX 75494. Funeral Services will be held on Saturday, July 1st, 2017 at Beaty Funeral Home at 12:00 pm, Rev. Vince Hicks conducting.