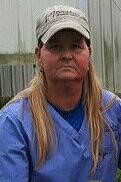 Funeral services for Holly Lynn Dougan, age 47, of Sulphur Springs, will be conducted at 2:00 p.m., Saturday, June 24, 2017 at West Oaks Funeral Home Chapel with Bro. Dean Libby officiating. Interment will follow at Sulphur Springs City Cemetery with Dr. David Black, James Kennon, Dan Thomas, Chris Merworth, Tracy Chambliss, Todd Freeman, and Chad Rawson serving as pallbearers. Visitation will be held from 6:00 to 8:00 p.m., Friday, June 23, 2017 at West Oaks Funeral Home. Holly passed away on Thursday, June 22, 2017 at her residence.
She was born on December 29, 1969 in Lone Star, TX, the daughter of Billy Newman Dougan and Billie Katherine Melton Dougan. She was a veterinary assistant to Dr. Black at Broadway Veterinarian Clinic for 15 years and was a member of the First United Methodist Church.
She is survived by her mother, Billie Dougan of Sulphur Springs, partner, Linda Coppedge of Sulphur Springs, brothers, Joel Dougan and wife Tammy of Sulphur Springs, John Dougan of Paducah, TX, nephew, Jacob Dougan of Frankston, TX, and nieces, Katie Dougan of Dallas, TX, Danna Baker of Royce City, TX, and Erin Dougan of California.
She was preceded in death by her father.
In lieu of flowers, memorials may be made to the American Liver Foundation at www.liverfoundation.org.
Arrangements are under the direction of West Oaks Funeral Home.