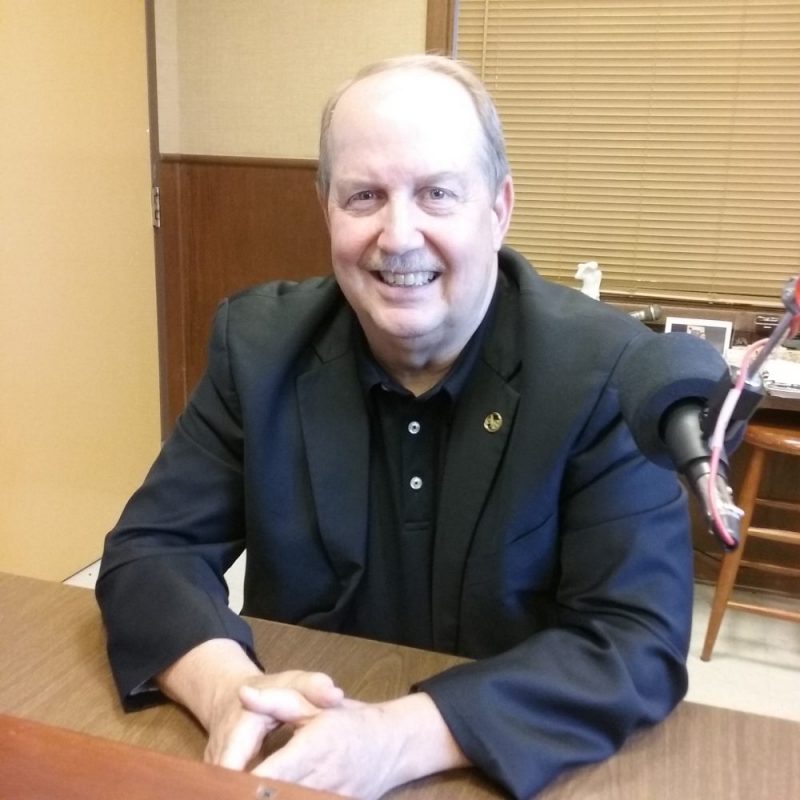 by Enola Gay
President and CEO of Alliance Bank Tom Sellers paid a visit to the KSST Morning Show to share a bit of Alliance Bank history with listeners and viewers. You can see read the history and view historic photos on the bank website, alliancebank.com.  In brief, the bank's birth was during the Depression era, when in 1927 it was chartered by two of the largest shareholders of First State Bank which had closed for insolvency. The original Sulphur Springs State Bank was located on the southwest corner of Main and Gilmer Streets, in the building now occupied by The Secret Garden retail store, just off the square. Jim Lindley was President and Charles Ashcroft was Vice President. That first year, the new bank turned a profit and paid a dividend, a trend that has been sustained for 90 years. A fire destroyed the original lobby in 1933, so the bank moved to it's current location on the north side of the square. Its new home was a two-story columned Greek Revival building, also formerly a bank, and it remained there until the building was dismantled in the 1960's when construction began on the current building. Meantime, the dairy industry had begun to expand in Hopkins County in 1937, providing a boost to farming which was formerly cotton. Bank loans for cows began to be made to dairymen contracted to sell milk through the then-local Carnation milk plant, and this healthy relationship between the bank and the dairy industry has continued until today. In 1996, the bank's name was officially changed to Alliance Bank. Over the next 20 years, bank branches were opened in Hunt, Rockwall and Collin counties. Today, Alliance Bank also owns and operates Galyean Insurance and Alliance Bank Financial Services.
Sellers was born and raised in Hopkins County, graduated Sulphur Springs High School and attended Texas Tech University. Although his father Charles Sellers was in banking, Tom chose a cowboy lifestyle on the Leonard Ranch for awhile, then began working in the farm loan business in West Texas. In 1980, when Gerald Prim was bank president, Tom was recruited by Alec Bridges to come on-board at Alliance Bank as a loan officer. Tom and his wife Pam then returned to Sulphur Springs to establish their home and raise their family here. Tom will observe his 30-year anniversary with Alliance Bank in February 2018.
The public is invited to share in another celebration on Saturday July 1, 2017 downtown on Celebration Plaza in front of Alliance Bank as the Northeast Texas Symphony presents the annual Independence Day Concert.