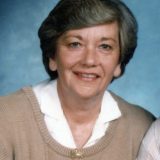 Mrs.Carol Ann Rawdon, age 77 of Winnsboro, passed away on Tuesday, June 20th, 2017 in Winnsboro. She was born on August 4th, 1939 in Dallas to the late Walter Willard Murdock, Sr. and Kathryn Inez Murdock. She married Billy W. Rawdon Sr. on August 18, 1956 and her preceded her in death on July 11, 2007.
She is survived by son, Bill Rawdon, Jr. of Kemp; daughter, Cheryl Rawdon of Winnsboro; grandchildren, Brian Rawdon of Tyler and Megan Howard and husband Tarrell of Pittsburg and three great grandchildren, Trishelle, Jacorria and Tristian; Brother, Walter Willard Murdock Jr. of Cedar Hill and sister,, Mary Jo Bradley of Cedar Hill.
Visitation will be held on Thursday, June 22nd, 2017 from 6:00 pm to 8:00 pm at Beaty Funeral Home 816 W. Broadway Winnsboro, TX 75494. Graveside Service will be held on Friday, June 23rd, 2017 at Purley Cemetery at 11:00 am, Bro. Richard "Nub" Brown conducting.