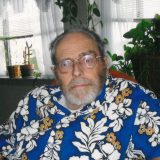 Graveside services for Brent Skrien, age 76, of Sulphur Springs will be held 4:00 P.M. on Friday, June 30, 2017 at Yantis Cemetery with Pastor Craig Vance officiating, with Grant Harp, Tanner Harp, Ty Harp and David Freeman serving as Pallbearers.  There will be no formal visitation. Mr. Skrien passed away on Sunday, June 25, 2017 at Carriage House Manor.
Brent was born on March 17, 1941, in Morris, MN, the son of Gynther Skrien and Elvina Weinkauf Buergel. Brent was a much loved brother.  He was a cook in Naperville, IL for years.  He moved to Yantis, TX in April of 2001 and thoroughly enjoyed living in Texas.
He is survived by his sister, Shi Cruse of Emory, TX; brother, Ken Skrien and wife Diane of St. Paul, MN; numerous nieces, nephews, great nieces and great nephews.
Memorials can be made to Alzheimer's Association, P.O. Box 96011, Washington, D.C., 20090-6011 or National Parkinson Foundation, 200 SE 1st Street Suite 800, Miami, FL 33131.
Arrangements are under the direction of Murray-Orwosky Funeral Home.