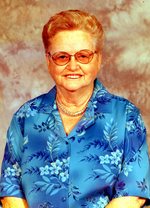 Mrs. Bonnie Faye Brumley age 86 passed away on Friday, June 9, 2017 at the Hospice of East Texas Homeplace in Tyler. She was born on October 12, 1930 to the late Charles Henry Redding and Beulah Regan Redding. Mrs. Brumley was a homemaker and member of Winterfield Baptist Church for 60 years. Bonnie married the late Leslie Willard Brumley on December 21, 1949 in Pickton, Texas. Bonnie was an active member of Winterfield Baptist Church and she was always prepared to have a dish ready to deliver for anyone sick of in need. Bonnie supported Willard in their forty years of dairy farming. Willard milked the cows while Bonnie fed all the calves. He preceded her in death February 16, 2013. She was also preceded in death by her parents, a brother, Kenneth Redding, and a sister, Mary Ruth Williams.
Survivors include brother Jimmy Redding and wife Rita of North Richland Hills; daughter Pansy Bell and husband Don of Weaver; grandchildren, Greg Anglin and wife Courtney of Pickton, Don Bell, Jr. and wife Marchelle of Midlothian, Kelly Shutt and husband Brent of Sulphur Springs and Lisa Williamson and husband Dan of Keller and great grandmother of five; Caden Anglin, Sadie Shutt, Sawyer Shutt, Braelynne Williamson and Avery Williamson.
Visitation will be Tuesday, June 13, 2017 from 12 to 1 pm at Winterfield Baptist Church. Funeral Services will follow at 1pm also at Winterfield Baptist Church. Interment will be in Winterfield Cemetery.
In lieu of flowers donations to the Winterfield Cemetery Association would be appreciated. Mail to Winterfield Baptist Church 915 CR 2400 Pickton, Texas 75471.