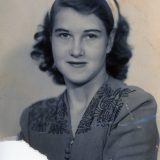 Mrs. Bonnie Brown, age 82 of Winnsboro, passed away on Tuesday, June 20th, 2017 in Winnsboro. She was born on March 29th, 1935 in the Coldwater Community to the late Calvin King and Emily King. She was a homemaker and a member of Coldwater Baptist Church.
She was preceded in death by husband, Billy Brown, three brothers, Lauris, Darrell and Louis King; two sisters, Marie Jackson and Becky Breed.
She is survived by numerous nieces and nephews.
Graveside Service will be held on Friday, June 23rd, 2017 at Pickton Cemetery at 10:00 am, Br. Mike Haun and Tracy Coker conducting.