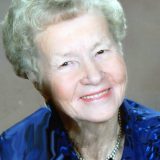 Mrs. Annie Ruth Barber, age 92 of Leesburg, passed away on Wednesday, June 7th, 2017 in Dangerfield. She was born on January 30th, 1925 in Upshur County to the late Era Nelson and Bessie Hallonquist Nelson. Annie grew up in Upshur County and the Pinney Grove area. She married Elvis Barber on June 6, 1942 in Pinney Grove.
Mrs. Barber was a homemaker and a member of Pine Street Baptist Church in Winnsboro.
She was preceded in death by sons, Kenneth Karl Barber, Alvie W. Barber, Olen Glen Barber; daughter, Rachel Ann Myers and great-grandson, Timothy Mason Ridenour; sisters, Geneva Houston; brothers, Orval Nelson and Donel Nelson.
She is survived by her husband of seventy-five years, Elvis Barber of Leesburg; daughters, Martha Ridenour and her husband Earl of Daingerfield, Sarah Hatcher and her husband Eddie of Dallas, Naomi Lavelle Williams and her husband Andy of Caddo Mills; brothers, Paul Nelson and his wife Frances of Pinney Grove, William Nelson and his wife Charlotte of Fairfield, James Nelson of Van, Dwight Nelson and his wife Sue of Pinney Grove; nine grandchildren, twenty great grandchildren and three great great grandchildren.
Visitation will be held on Friday, June 9th, 2017 from 6:00 PM to 8:00 PM at Beaty Funeral Home-Winnsboro 816 W. Broadway Winnsboro, TX 75494. Funeral Services will be held on Saturday, June 10th, 2017 at Beaty Funeral Home Chapel in Winnsboro at 2:00 pm, Bro. Charles Ethridge conducting, Interment will follow at Piney Grove Cemetery in Winnsboro, with Tim Ridenour, David Ridenour, Josh Gilbreath, Jeffrey Butler, Gregory Morgen, Colby Morgen serving as pallbearers.