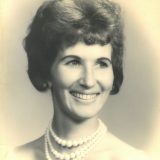 Celebration of life for Shirlene Kennimer Crum, age 77, of Yantis, TX will be held at 12:00 P.M. on Sunday, May 28, 2017 at Arbala Community Center, Arbala, TX.  There will be no visitation.  Shirlene passed away on Tuesday, May 23, 2017 at Carriage House Manor, Sulphur Springs.
Shirlene was born on October 22, 1939 in Birthright, Texas, the daughter of Roy Lee and Myrtle Permelia (Brown) Kennimer.  She married David Albert Crum, Sr. in Galveston, TX on September 13, 1963.  She was a waitress and of the Baptist faith.
She is survived by her daughters, Sharon Chamness, Cathy Sims and husband Mike of Chandler, Cindy Smith and husband David of Arlington, Anita Holland of Yantis, Mickie Kirk of Weatherford, Brandy Joiner and son, David "Bucky" Crum, Jr. of Mineola; grandchildren, Meri Dickey, Michael Sims, Catie Sims, Crystal Doyle, David Smith , Jr., Ashton Kovic, Westen Cruz, Layne Attaway, Larry Holcomb, Jr. Brandon Holcomb, Keri Holcomb, Colton Nicewarner, Trent Nicewarner, Baylie Crum, Kyle Crum, Kassidy Crum, Levi Leatherwood, Darren Leatherwood, Payton Holcomb; great grandchildren, Nikki Penny, Shelby Tolleson, Jessica Joiner, Connor Bennett, Zeb Bennett, Luke Sims, Cayson Leatherwood, Kaylie Holcomb, Allison Smith, Angel Smith, Trinity Doyle, Kyla Doyle, Logan Doyle; great great grandchildren, Conner Penny, Cortlyn Penny, Colter Penny; sisters, Ann Gregg, Bettye Kersten, Linda Mitchell, Patsy Barness; brothers Richard Kennimer, Roy Lee Kennimer, Jr.
Shirlene was preceded in death by her parents and husband.
Memorials can be made to the American Cancer Society or Legacy Hospice, Tyler Texas.
Arrangements are under the direction of Murray-Orwosky Funeral Home.