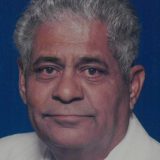 Funeral service for Robert Garcia Martinez, age 76, of Point, will be held
2:00 pm
,
Saturday, May 6, 2017
, in the chapel of Wilson-Orwosky Funeral Home.  Interment will follow service in Prospect Cemetery. Visitation will be one hour prior to the service. Mr. Martinez was born January 19, 1941, in Alice, to Rufus and Elvira Garcia
Martinez.
Later, he married Audelia Longoria, in Alice, on March 17, 1958.  They were married 54 years. He owned and operated a masonry business. About mid-life, he became a minister of the gospel and held the little church,  Christ the Eternal Rock, at Prospect.
Survivors include:
Robert Martinez (Mary) of Cash
Joe Martinez (Claudia) of Greenville
Roel Martinez (Victoria) of Plano
Ronald Martinez (Rachel) of Point
Jeffrey Martinez of Rockwall
Grandchildren:  Christina, Shawn, Deanna, Patricia, Joseph, Leroy, Matthew, Andres, Miguel, Emily, Hillary, Lorena, Moses, Nataljia, Jewel, Jayde, Mariah, Zachary, Madison, and Kamdyn
Great-grandchildren:  Numerous
Preceded in death by:  Wife on May 16, 2012