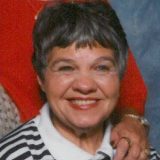 Graveside Inurnment Service for Mary Ellen (Broughton) Screws, age 82, of Sulphur Springs, Texas will be held at 2:00 P.M. on Friday, May 19, 2017 at Stouts Creek Cemetery with Bobby Jack Broughton officiating and Tom Frisbee assisting. There will be no visitation.  Ms. Screws passed away on Monday, May 15, 2017 at her residence.
Mary Ellen was born on September 21, 1934, the daughter of James Wright and Lillian Ruth (Jones) Broughton in Talco, Texas.  She married Thad Screws whom preceded her in death in 1976.  Mary Ellen was a homemaker and of the Baptist faith.
She is survived by her daughters, Donna Torres and husband Felipe, Tommie Amaya and husband Martin; grandchildren, Jeff Painter, Brenda Baxter, Anthony Painter, Steven Roberts, Jason Jimenez, Christina Zetino, Catalina Torres, Jesus Torres; 19 great grandchildren; sister, Jean Leslie of Odessa Texas and brother, Bobby Broughton of Mt Vernon, Texas.
Mary Ellen was preceded in death by her parents, husband and granddaughter, Lashonda Painter.
Arrangements are under the direction of Murray-Orwosky Funeral Home.