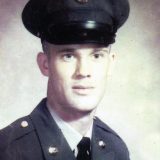 Mr. Kenneth Chambers, age 72 of Leesburg, passed away on Thursday, May 11th, 2017 in Tyler. He was born on April 30th, 1945 in Ellis County to the late Ocie Chambers and Annie Chambers.
He is survived by his wife, Evelyn Chambers of Leesburg; sons, James Earl Chambers of Beeville, Kenneth Wade Chambers of Kaufman, Bradley Eugene Chambers of Gatesville; daughters, Janet Leigh Chambers Spivey of Leesburg, Johnnie Diann Broach of Mabank,; brothers, Clifton Chambers and Robert Chambers; sisters Patricia Price and Cindy Chambers Hathcock; grandchildren, Chadwick Tyler Spivey, Kendra Pece, Charli Parent, Briana Waters, Jessie Hicks and Chandler Bounds; and eight great Grandchildren.
Memorial Service will be held on Saturday, May 27th, 2017 at Beaty Funeral Home-Winnsboro 816 W. Broadway Winnsboro, TX 75494 at 1:00 pm, Leon Bradshaw and Bill Miller conducting.