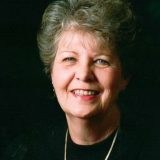 Memorial service for Kathleen J Hipkins, age 68, of Sulphur Springs, TX will be held at 10:30 A.M. on Tuesday, May 30, 2017 at First United Methodist Church, Sulphur Springs with Rev. Pete Adrian officiating.   Kathleen passed away on Sunday, May 7, 2017 at her residence in Sulphur Springs.
Kathleen J Hipkins was born on October 6, 1948, the daughter of Merle Charles and Virginia Olive (McBride) Fick in Warren, Ohio.  She married John Hipkins at Niagara Falls, NY on February 29, 1972.  Kathleen worked as a Supervisor for GM and a police officer.  She was also a member of Crime Stoppers and First United Methodist Church, Sulphur Springs.
She is survived by her husband John Hipkins; daughters, Deanna Hayne and husband Paul of Effingham, S.C., Denise Phillips and husband Vincent of Houston, TX, Jayme Hartt and husband Brad of Hartford, OH and Kelly Hipkins of Warren, Ohio; grandchildren, Bryce Hayne, Nathan and Drew Philips, Dale Hartt, Patrick Hartt, Lindsey Hartt and Ashley Hipkins; great grandchildren, Lillyana Hartt and Evan Emanuel; brother, Merle Fick and wife Eilleen of Warren, Ohio; sister Merleen Davis and husband George of Massilon, Ohio.
Kathleen was preceded in death by her parents.
Arrangements are under the direction of Murray-Orwosky Funeral Home.