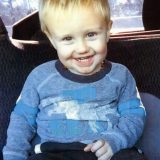 Jackson Lee Sanders, age 2, of Winnsboro, TX passed away Wednesday, May 10, 2017.
He was born April 28, 2015 in Mount Pleasant, TX to Lanna Arrington Sanders and Cory Ray Sanders.
When Jackson was not with his mama, he was serving as the cheerful "greeter" at the auto parts store or helping his daddy take hay to the cows. If Jackson was not by Lanna or Cory's side, he was playing with Bai; he loved his Sissy and she was a patient and loving big sister. Anything to do with tractors, cows, or hay made Jackson smile and that beautiful smile is what everyone who knew and loved him will remember. Though he was with us for only a little while, he touched the lives not only of his loving family, but of an entire community and, in our mourning, we are grateful.
Jackson is survived by his parents, Lanna and Cory Sanders of Winnsboro; his sister, Bailee Ann Sanders of Winnsboro; grandparents, Connie ("Mimi") and Tommy ("Hops") Barrett; David ("Pawpaw") and Janet Arrington; and Don ("Pappaw") Sanders, all of Winnsboro; Sharon ("Nana") and Michael ("Poppy") Dennehy of Greenville, TX; uncle, Jake ("Uncle Bubba") Arrington of Winnsboro; aunts, Autumn Arrington and Maddi Arrington and their mother, Jacquie Danley of Sulphur Springs, TX; aunts and uncles, Amy ("Aunt Mamie") and Robby McCraw of Mount Vernon, TX; K.C and Neal Dennehy of Dripping Springs, TX; Maura and Mike Deeds of Ramstein, Germany; cousins Adam, Kelsie, and Justin Arrington of Winnsboro; Noah, Luke, Jonah and Mali Grace McCraw of Mount Vernon; Dunagan and Harper Dennehy of Dripping Springs.
Funeral services will be at 4 p.m. Friday at First Baptist Church Winnsboro under the direction of Beaty Funeral Home.